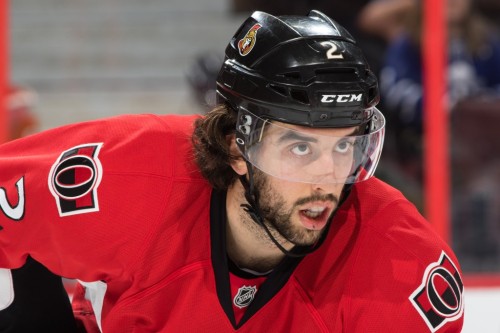 If there was ever a time Jared Cowen needed to prove his value to the Ottawa Senators, it would be this season.
Taken ninth overall in the 2009 Entry Draft – ahead of such other first round defencemen as Ryan Ellis, Nick Leddy, and John Moore – expectations were high for the burly blueliner. But aside from an impressive rookie season in 2011/12 when he appeared in all 82 games, averaged 18:53 of ice time per night and totalled 217 hits, Cowen hasn't quite panned out.
He missed all but seven games the following lockout-shortened season due to hip surgery and seemed uncomfortable upon his return. The 2013/14 season saw him rebound well, appearing in 68 games and finishing just shy of 100 blocked shots while maintaining his physical presence and even chipping in 15 points.
But for all the positives to be found in such a successful rebound year, 2014/15 was – to borrow a line from Brian Burke, with only slight exaggeration – the equivalent of an 18-wheeler going off a cliff. Perhaps it was a result of head coach Paul MacLean's situational usage of, or lack of confidence in, his defenceman, but Cowen was a shadow of his former self.
Poor positioning was an all-too-common problem for Cowen who, despite low giveaway totals, was responsible for multiple goals against, contributing to his career-low minus-11 rating. As a result Cowen regularly found himself in MacLean's doghouse, and almost as regularly in the press box as a healthy scratch (something that happened 23 times).
What resulted was Cowen's lowest average TOI (18:09) since his aforementioned rookie campaign. While Cowen has no one to blame but himself for his poor play and reduced ice time, McLean's usage of Cowen could also be to blame. Last season Cowen started only 42.86 per cent of his shifts in the offensive zone, putting him at a disadvantage before the drop of the puck.
While it's understandable that such ice time would be reserved primarily for the likes of Erik Karlsson and Cody Ceci, who are more offensively gifted and would have more to offer in that facet of the game, there's no denying the negative effects it had on Cowen's performance.
Making matters worse for Cowen is the fact his free fall has coincided with the meteoric rise of Patrick Wiercioch, who looks poised to slot in on the second pairing with Ceci. Despite lacking the offensive flare of Karlsson or defensive prowess of Marc Methot, Wiercioch has emerged as a more than reliable two-way defender.
He has seen his ice time progressively increase since his first year in the league and hasn't missed a beat. He won't put up 40 points and block 150 shots in a season, but he possesses the skillset to contribute offensively when needed, as well as a frame (standing 6'5" and 205 lbs.) that makes him an occasional physical threat and prime candidate to block shots.
Last season was bar none Wiercioch's best, helping to land him an invite to play for Team Canada at the World Hockey Championships where he put on a great performance. Cowen's season couldn't have ended any more different as he not only didn't partake in the playoffs, but appeared in his last game March 29.
It was a fitting end to a season in which Cowen looked like the odd man out. If he can't figure out a way to re-establish himself soon, it won't be long before he's on his way out.