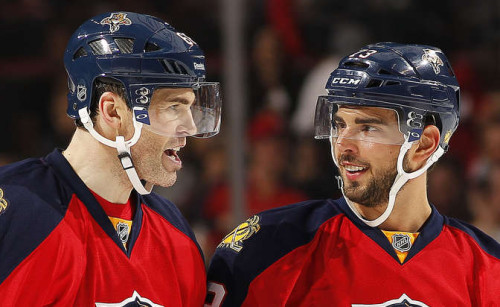 Let's be real here: We all know that Jaromir Jagr is a badass.
Not just your standard, run-of-the-mill badass either. This dude is the consummate badass. Like, your WWII-fighting, Scotch-swilling, bareknuckle-brawling grandpa's type of badass.
Case in point: After being on the wrong end of a high stick to the piehole in the first period of Tuesday night's game against the Ottawa Senators, Jagr–four teeth the poorer–assisted on Corban Knight's score-opening goal in the second, aiding the Florida Panthers in securing their fifth consecutive win and their eleventh in their last 14.
This followed Sunday's shootout victory against the visiting Vancouver Canucks, where Jagr's one-timed power play marker over the shoulder of Ryan Miller propelled the Czech native to sole possession of fourth place on the NHL's all-time goal scoring list.
Through 32 games this season, Jaromir Jagr has notched 25 points off of ten goals, tops in team scoring. Posting his best PPG rate since his age-41 campaign with the New Jersey Devils back in 2013-14, he's been a crucial component of a revamped power play that currently sits 15th in the league. Juxtapose that figure with last season's 23rd-place unit. Just do it. Pls.
In short, Jagr's been a godsend. He's vino. He's a less irritating, foreign Kobe Bryant. However, unlike today's Kobe, he's a veritable blessing from the hockey gods upon an offense that, at this point last season, was mired in a scoring slump. To put it in layman's terms, "MAJOR KEY TO SUCCESS RIGHT HERE. THEY DON'T WANT YOU TO SCORE, I CAN PROMISE YOU THAT #blessup."
But, as the saying goes, no man is an island. And on this journey to more success, how are the Cats–a team picked by most to finish outside of a playoff spot–sitting pretty, sole owners of the final guaranteed playoff berth in the Atlantic division and a lone point behind the division-leading Montreal Canadiens?
Watching the NHL Network in the wee hours of the morning, I stumbled upon an interesting statistic. Per their calculation, Panthers skaters aged 24 and younger have accounted for 62.9% of the team's point production. Additionally, seven of the club's ten leading scorers fall into this age range, with Vincent Trocheck and Jonathan Huberdeau's 24 points through 35 contests pacing the demographic. Reilly Smith leads the goalscoring charge with eleven, Huberdeau's 17 helpers are a team best and second-year stalwart Aaron Ekblad's plus-eleven rating leads his teammates.
What this number vomit amounts to is the simple fact that Dale Tallon's blueprint is finally bearing fruit, that his core of fleet-footed young skaters is coming into its own. Currently icing a roster with 12 homegrown players and receiving contributions from an additional two, the Cats finally possess the young talent to compete with any team in the league.
Depth has developed into a strength as well: Having lost 85 man games to injury, the Panthers have managed to sustain their recent success, handing valuable minutes to "plug-and-play" AHL call-ups. Skaters such as Rocco Grimaldi, Connor Brickley, Logan Shaw and the like have brought speed and tenacity to the bottom-six, chipping in depth scoring and otherwise filling in admirably in their teammates' stead.
And, given the rock-steady performances of Roberto Luongo and Al Montoya in net, the Cats may have only clawed (HA feline pun) the surface of their potential.
Time for a nonsensical close: In the words of that one Adidas commercial that my friend Joe absolutely hates, THAT'S THAT NEW SPEED THO.
Love Reading About Hockey?

Subscribe to keep up-to-date with the latest and most interesting hockey news!
| | |
| --- | --- |
| | We hate spam just as much as you |