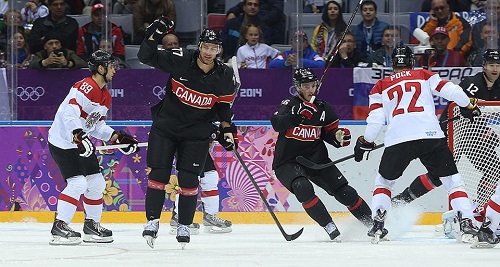 He started the game listed as the 13th forward, but with three goals, Jeff Carter made the most of his opportunity. Carter's goals were half of Canada's 6-0 win over Austria in Sochi, moving the team's record to 2-0. They will face Finland, also 2-0, Sunday to see who will win Pool B.
"It just kind of happened," Carter said on his hat-trick. "I was in the right place at the right time for pretty much all of them."
Drew Doughty and Shea Weber put Canada up 2-0 with shots from the point in the first. Weber's went in and out so quickly that it had to be reviewed to make sure it didn't hit the cross-bar.
"Webs probably has the hardest shot in the league," said Doughty. "Every time he winds up for it, if he hits the net it's going to go in pretty much every time."
Carter only played 2:45 in the first period, but in the second he pounced on every chance he got. When Patrick Marleau (who assisted on all three Carter goals) hit the post, Carter was there to bang the puck in. When goalie Bernhard Starkbaum turned the puck over behind his net, Carter picked it up and put it five-hole. And when a Weber shot resulted in a scrum in front, Carter pulled the puck out and fired it under a scrambling Starkbaum.
"I'll take them any way they can come right now," he said. "My linemates did a great job of winning races to the puck, winning puck battles, and getting pucks to the net, and I guess you could say I was the recipient of their hard work."
Carter finished the game with only 8:46 of ice time, the only Canadian under 10. But he made his minutes count and may have found some chemistry with Marleau and Jonathan Toews.
"Confidence in these tournaments is a big thing, with it being so short. You get a goal, and you start to feel good about yourself," Carter said. "Your legs start to feel a little better, the hands start to feel a little better, and it feels like the game comes a little easier. It's definitely big."
A Ryan Getzlaf shorthanded goal finished the scoring and Starkbaum was chased after two periods. He made 25 saves and his replacement Mathias Lange stopped all 15 he faced.
In the Canadian net, Roberto Luongo took over for Carey Price and stopped all 23 he faced. There were large stretches of the game where Canada had Austria pinned for multiple shifts, but Luongo said he remained focused.
"I didn't want to blow that six-goal lead in the third," Luongo joked.
After the game, Head Coach Mike Babcock didn't say if Price or Luongo would start on Sunday against Finland. He did say Patrick Sharp and Dan Hamhuis, who were scratches today, would get in. For whom though he wouldn't say, only saying he hates having to scratch players in the Olympics. In Vancouver 2010, there were only 22 players and no scratches.
Canada has the day off Saturday so the roster moves probably won't be announced until just before the game against Finland.