Featured
Jessica Campbell Will Become The First Woman AHL Assistant Coach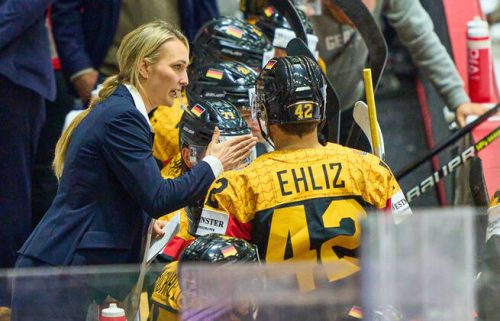 Jessica Campbell will break the American Hockey League's coaching gender barrier next season when she steps behind the bench with the Coachella Valley Firebirds.
The Seattle Kraken, the Firebirds NHL affiliate, announced the hiring of Campbell, who will join newly hired head coach Dan Bylsma to lead Seattle's prospects in the AHL. Campbell will become the first woman to be an assistant coach when the season begins this fall.
"I'm very excited, it feels like it's going to be a really good fit. I am thrilled to join the Kraken organization," Campbell said in a Kraken news release.
As a player, Campbell, 30, captained Canada's U-18 team to a women's U-18 World Championship gold medal where she was named tournament MVP. She went on the play for Cornell where as a senior she captained the Big Red, and later won a Clarkson Cup with the CWHL's Calgary Inferno, and a silver medal with Canada's senior women's national team at the World Championship.
"We're very excited to welcome Jessica to the Kraken organization as a coach with the Firebirds," said Seattle Kraken general manager Ron Francis. "She played the game at a high level. That experience along with her knowledge of the game, and her ability to communicate and teach, will assist the development of our prospects in the AHL."
Campbell's ability to develop skills at the professional level has become her calling card in recent seasons, both as an individual skills coach for several NHL players and coaching men's pro teams. In 2020-2021 she served as the skating coach for the SHL's Malmo Redhawks, a team that has sent several top talents to the NHL in recent years. This past season, the Rocanville, Saskatchewan product was an assistant coach and the skills coach for the DEL's Nurnberg Ice Tigers and also stepped behind the bench for Germany at the men's World Championship. Campbell also worked with the USHL's Tri City Storm.
"Jessica's strength is her skill and talent for developing players who understand all aspects of the game and what it takes to be successful on and off the ice." said Firebirds head coach Dan Bylsma, who recruited Campbell to the Coachella Valley staff. "She has a passion for creating players with impact. We are focused on building a culture of impact, skill and tenacity for both the Firebirds and the Kraken."
Campbell's most recent experience with Nurnberg gave the elite athlete and coach the confidence to pursue an NHL job.
"I feel confident, I feel prepared. I knew I'd done the work the past two years with the guys," she said. "There were no nerves [behind the benches in Germany] or fear. I felt capable and ready to step into it."