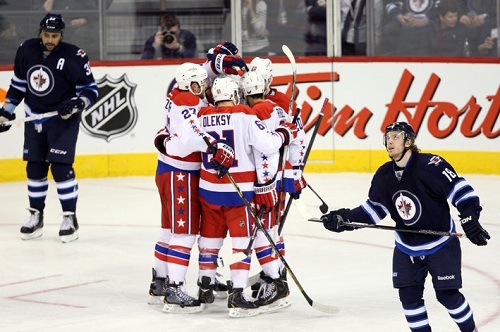 Two consecutive games in two days for the Winnipeg Jets resulted in two losses, both against their division rivals, the Washington Capitals.
Thursday night, the Jets could not solve Capitals goaltender Braden Holtby, failing to get any of their 20 shots in the back of the net. Pavelec stopped 21 of 25 shots in the losing effort, and the Jets lost to a final score of 4-0. Washington outshot Winnipeg 25-21, and Alexander Ovechkin led the charge, with a goal and two helpers.
The loss ended the Jets' three game win streak at home, and after the game captain Andrew Ladd said, "It's nice that it's a short turnaround and we have a chance to redeem ourselves right away."
Meanwhile, coach Claude Noel was left trying to figure out what could be done to beat the Capitals, who had simply dominated them.
"We need to play better, that would be the first thing," Noel said.
"We've given up seven goals in two games (against Washington) and haven't scored one. They're playing chess, we're playing checkers."
Friday night, the Jets and Capitals faced off again, giving the Jets a chance for redemption. However, it didn't end up very well for the Jets, who lost 6-1, despite outshooting the Caps 31-24.
The Capitals had goals from Alex Ovechkin (2), Brooks Laich, Troy Brouwer, Jay Beagle, and Mike Green. Dustin Byfuglien has the lone goal for the Jets.
"What can you say, they scored goals and we didn't," said Jets coach Claude Noel who described it as a bump in the road and a learning experience.
"At one point the shots were 30-17 and we were down 5-1 but that's what you get sometimes."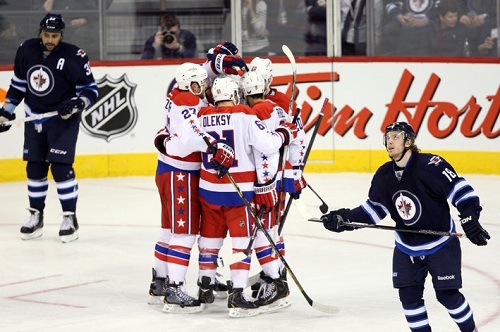 He also wasn't as down on the level of play as he was after Thursday, when Winnipeg came out flat and stayed that way.
"We didn't execute some things but for me the will was there, the game was really out of reach. It was a tough game to be part of. . .
"I still like our team and we're still at the top of our division, we're still a team that I believe will make the playoffs and that's where we're going. The world is not going to end tomorrow, I don't think."
Ondrej Pavelec was pulled at the 5:50 mark of the second period, after allowing three goals on nine shots. Backup Al Montoya didn't fare much better, allowing three goals on 15 shots.
"The best thing our players can do is get away from hockey and go see a movie and clear your head, because we've got a game on Sunday," Claude Noel said.
The Jets play their next game against the Tampa Bay Lightning on Sunday.