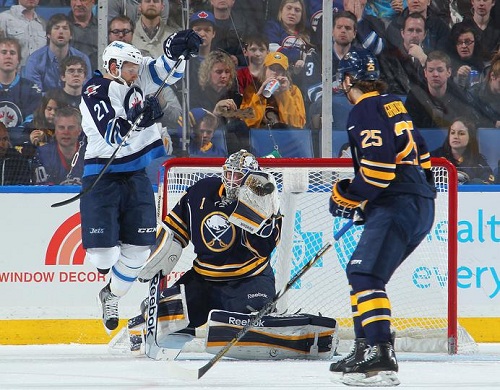 The Winnipeg Jets moved closer to the playoffs with a 2-1 win over the Buffalo Sabres. The Jets moved to within one point of the 8th place Ottawa Senators. Jhonas Enroth was pretty solid in net and made 37 saves in the loss.
Enroth made several key saves in the opening frame. Perhaps none could have been any bigger than the penalty shot attempt by Evander Kane. Kane fell to the ice after Andrej Sekera dove at him to break up the play. Enroth got a piece of Kane's shot and it deflected over the net. Kane is now 1 of 5 career in penalty shot attempts while Enroth is 1 of 2. Tyler Ennis had a good scoring chance late in the period but hit the post.
Winnipeg opened up the scoring in the 2nd period. Aaron Gagnon tipped a pass from Derek Meech and beat Enroth to make it 1-0. The Sabres would respond a few minutes later. Blake Wheeler was in the penalty box for hooking. Thomas Vanek would score his team-leading 18th goal of the season, tipping in a pass from Tyler Ennis to tie it 1-1.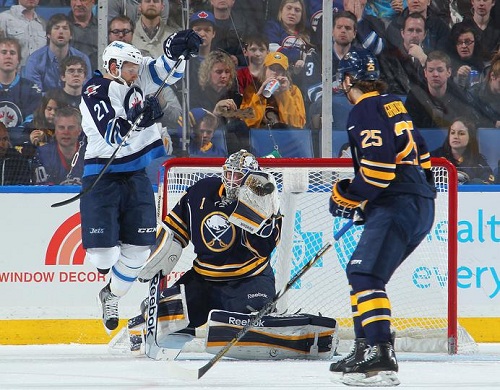 Buffalo just couldn't keep up in the 3rd period. Winnipeg had several chances and finally converted with about 7:36 left to play. James Wright made a pass to Antti Miettinen who let a shot go from the point. Enroth got a piece of it but it trickled behind the goaltender and into the net. Miettinen's goal proved to be the game-winner.
Game notes:
Vanek is now 6th on the Sabres all-time goal-scoring list with 248 goals.
Mikhail Grigorenko played in place of Patrick Kaleta who has a hand injury.