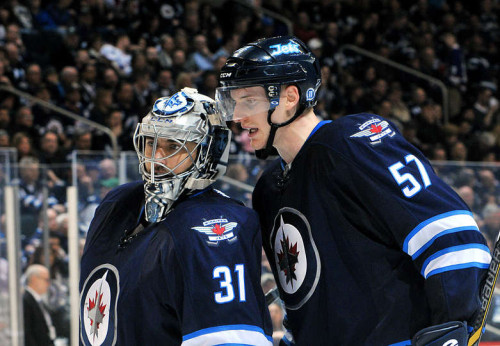 With five games to go, the Jets find themselves slipping in and out of the last spot for the playoffs. Playoffs have been so unfamiliar to the Thrashers/Jets organization. It's been since the 2006-2007 season that this organization has made it there, and they were swept in four games.
The new additions to the team have made quite an impact. With playoffs just around the corner, they have made a splash in almost no time.
Since joining the Jets, Myers has earned 13 points. Stafford has earned 17 in his 21 games with the Jets.
The Kings overtook the Jets for the final Wild Card spot, but with both teams having 90 points, there is still hope for the Jets to make the playoffs.
With Byfuglien suspended until the last game of the season against Calgary, new defensive pairings could help get them playoff ready. They have had success this season in several games where Byfuglien was not on the ice.
The tough schedule for the rest of the season does pose somewhat of a disadvantage. With all the remaining games, only one team has a lower ranking than the Jets do. As of April 3rd, the Jets only trail the Flames by one point, so there is the possibility of over taking them and having a switch up between the Flames, Jets and Kings.
In a recent press conference, Bryan Little referred to the remaining five games their season, "a miniature, five-game season."
The whole season has been a struggle of adapting to key players missing, so as long as these last five games can work themselves out, the Jets should be golden.