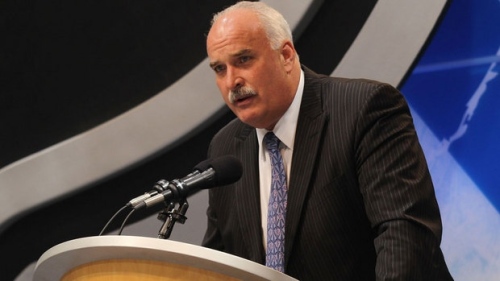 After a summer of inaction, there seemed like a bit of hope that Ryan Johansen and the Columbus Blue Jackets would come to terms on a new deal eventually. They had to, right? Both sides need each other and surely one would cave.
That doesn't seem to be the case anymore.
On Monday, it seemed as though the tensions between Johansen and the Jackets hit a boiling point. Blue Jackets president John Davidson absolutely destroyed Johansen's agent, Kurt Overhardt. In a rant for the ages to the Hockey News, here are some of the finer bits:
"When you see numbers that are thrown at us, we shouldn't even respond. That's how bad it is. It's embarrassing."
"The numbers they come back with…are so one-sided it's nonsensical. It's extortion is what it is. I don't make this stuff up. I've been in this league doing this for a long time now and this one here, it's baffling is what it is. This one's baffling. Baffling."
"They have no leverage and they're trying to take us to the woodshed."
"Just because a guy has one good year, are you supposed to all of a sudden hand him the keys to city hall? We're not trying to low-ball a guy. We don't low-ball anybody."
"If we ever caved to what (Overhardt) is demanding, we'll all get fired. And I take it personal. I don't understand it. I take it very personal. What's he trying to do, get us fired? What's he trying to do? I don't understand what he's trying to do."
To be fair to Davidson, Overhardt is trying to use Patrick Kane and Steven Stamkos as comparables to Johansen, looking for around $6.5 million per season for his new contract. Columbus, meanwhile, is offering about $3 million per season less.
Overhardt has a history of players holding out, from Marty Turco to Kyle Turris, but at least up to this point things were civil. With Davidson's blast off, it doesn't seem as though that's the case here. The Jackets also have a history of handing out fair deals: Brandon Dubinsky got a six-year, $35 million extension over the summer while Sergei Bobrovsky got $11.25 million over two years after winning the Vezina Trophy.
Johansen appears to be playing the only card at his disposal: you need me if you want to build on the momentum of the team's first playoff wins. It's really his only card, but he's apparently ready to dig in and battle. It will be interesting to see how things progress as camp draws nearer.
Follow me on Twitter: @TwoPadStackRW
Love Reading About Hockey?

Subscribe to keep up-to-date with the latest and most interesting hockey news!
| | |
| --- | --- |
| | We hate spam just as much as you |