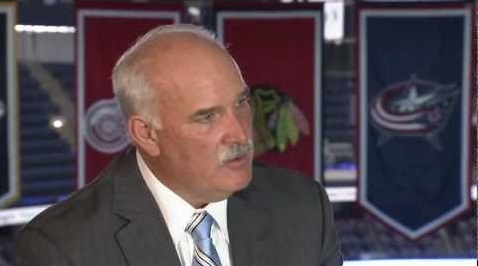 Things keep getting uglier and uglier in the negotiations between Ryan Johansen and the Columbus Blue Jackets.
Earlier this week, president John Davidson called the requests of Johansen and his agent "extortion".
"When you see the numbers that are thrown at us, we shouldn't even respond. That's how bad it is. It's embarrassing. And if the kid sits out (of training camp), he sits out. I wonder if the agent is going to pay him his money back that he's going to lose by sitting out?" he said, via Puck-Rakers.
He wasn't done there. He revealed the following little details:
The team offered Johansen $6 million over two years and $32 million over six years (Davidson pointed out that this is more than Jamie Benn makes) and $46 million over eight years. That sounds pretty fair and reasonable no matter who you are, let alone a guy with one good season under his belt.
He also revealed that Kurt Overhardt, Johansen's agent, was using Steven Stamkos, Jonathan Toews and Patrick Kane as comparables. Yeah, think about that one for a second. Davidson: "You can't sit here and have the Stamkos and the Toews and the Kane thrown at us." Preach, brother, preach.
Davidson also may have remarked that Overhardt is coming up with his numbers pretty much out of his own ass: "With the numbers they came back with … they are so one-sided it's nonsensical. It's extortion is what it is. I don't make this stuff up. I've been in this league doing this for a long time now and this one here, it's baffling is what it is. It's baffling. Baffling."
As if things weren't inching further and further away from civility, Overhardt went on TSN 1050 to discuss Davidson's comments and the contract details. From Nichols On Hockey:
"Well, I mean with all due respect, I don't think you do respond. I don't think it deserves a response and this is a business deal for a young man that is obviously just beginning to burgeon in his career and I just think it's business, and it's private. It's between Ryan Johansen and the Blue Jackets. It's unfortunate, but I was raised to have integrity in what I do by the people that raised me and it's unfortunate that they've taken this course but we're just going to ignore it and try to work in good faith to get a deal done."
"Raised with enough integrity"? Bah gawd, them's fightin' words!
Overhardt defending the demands:
"There's only so many 6-4, 230-pound centericemen walking down the streets. Ryan has got a lot more talent in his tank but he's a member of a 23-man unit and he respects his teammates and he respects his role.
"So there's also a marketplace. And there's accountability within that marketplace. And so the player's compensation just needs to be fit in where first line centermen fit and it's really that simple. So there shouldn't be a lot of drama. As we know, the CBA and the CBA since the 2005 lockout was lifted has a lot of moving parts and star players, or the first line players, they earn their money and they're accountable for it."
"So it's just a matter of making a fit and like I said before, old school tactics and personalization of things – it just, it doesn't do anyone any good. It's September 17 and the young man would prefer to be in training camp tomorrow with his teammates. But unfortunately, some people would rather talk about innuendo and personal attacks, rather than roll their sleeves up and work."
Fine, but maybe look at his stats and don't compare him to three of the best players in the world. Right now, Johansen has a better chance of getting Stamkos money by pan-handling.
Let the drama continue.
Follow me: @TwoPadStackRW