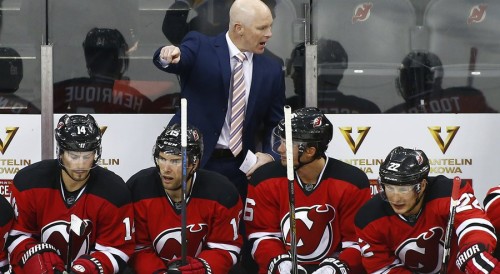 It seems many people around the league are taking notice of John Hynes' revitalization of the New Jersey Devils. In his mailbag for the week of November 18, NHL.com's Dan Rosen answered questions about Hynes' head coach capabilities, deeming him an early favourite as a Jack Adams Trophy winner. As a young, first year coach, this could be a huge honour for Hynes. "I can't think of a coach who has done more with less in the first quarter of the season than Hynes," Rosen wrote.
"Not only is he getting a lot out of a flawed roster, he's helped foster a culture change with the New Jersey Devils," he continued. "This is a team that wants to play fast and tries to play exciting hockey. The players love him and have totally bought into his system. They talk about how Hynes isn't just a coach talking to them, he's a coach discussing things with them. There's a difference. They talk about how everything Hynes does has a purpose, and how he's a great communicator. They love the energy he brings every day. These things go a long way with today's players, who are savvy enough and care enough to tell a phony from the real thing. Hynes is the real thing."
With all of the changes that happened in the offseason, this (along with their current standing in a playoff position, of course) has to be promising for the Devils. They have exceeded everyone's expectations this season, and it seems people are paying attention. Their off-season player acquisitions seemed minor until put into practice – Palmieri and Stempniak have proven to be key parts of the offensive unit this season. And, as it stands, many are giving credit to Hynes' new coaching style.
Check out Dan Rosen's full November 18th mailbag from NHL.com here.
Love Reading About Hockey?

Subscribe to keep up-to-date with the latest and most interesting hockey news!
| | |
| --- | --- |
| | We hate spam just as much as you |