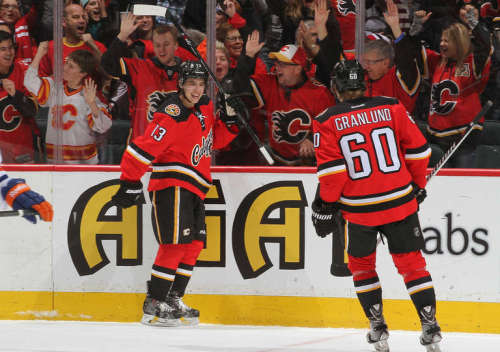 Call him Johnny Gaudreau. Call him Johnny Hockey. Call him…Rookie of the Year? Some inspired play of late has basically erased the terrible start Gaudreau had this season and vaulted him into the discussion for the award.
Of course, that hasn't been for a lack of effort by Swedish sensation Filip Forsberg of the Nashville Predators who was by and large the best rookie early on. The 20-year-old centre got off to a torrid start to the season, picking up 20 points in his first 16 games, including separate four- and seven-game point streaks. What's more: In those 16 games he failed to pick up at least a point only four times.
Since a three point effort against the St. Louis Blues Nov. 13, however, Forsberg has cooled off considerably. In the 18 games played since then he has just 14 points – though he has points in seven of his last 10 games. Overall that evens out to 34 points in 34 games.
Gaudreau, meanwhile, has picked up the pace since his dreadful start to the season. It was only in late October when he began regularly putting points on the board – and he hasn't stopped since. Dating back to October 28 Johnny Hockey has 26 points in 27 games after only three in his first nine. He's been especially productive lately – five goals in two games – leading to his first star of the week selection for the week of Dec. 22-28.
Points are, understandably, a key factor in determining who the rookie of the year should be, but they're not the only factor. Although, in this case, Forsberg's play taken together has been enough to edge Gaudreau by the slightest margin. Forsberg not only has more points, but is a plus-24, has 10 power play points, four game-winning-goals and averages 17:34 minutes per game – each besting Gaudreau.
Despite his seeming inferiority to Forsberg, Gaudreau does have his own perks. On top of narrowly trailing Forsberg in each of the above mentioned categories, Gaudreau has also yet to take a penalty this season and is a more efficient shooter (percentage wise). And, let's not forget this is actually Gaudreau's first season playing against men – something Forsberg can't say.
The young Swede played three seasons with Leksands IF in the Swedish Hockey League, starting as a 16-year-old in the 2010-11 season. Following his time in Sweden he played 13 games with the Predators last season, and then spent the remainder of the season with the Milwaukee Admirals of the AHL. Though it can't be said for certain Forsberg was better prepared because of his time in Sweden, he certainly had plenty of experience.
In contrast, Gaudreau – who is a year older at 21 years of age – made the jump straight to the NHL after three seasons with Boston College. Though the NCAA does provide the opportunity to play against 20-year-olds – something junior doesn't offer – it doesn't provide the challenge of playing in the AHL or other pro leagues.
Despite not playing against professionals prior to the start of his NHL career, Gaudreau has – with the exception of the start of the season – been a force for the Flames. If he continues his great play into the New Year, the hockey writers may not need the "not as well prepared" crutch when casting their votes for the Calder Trophy.