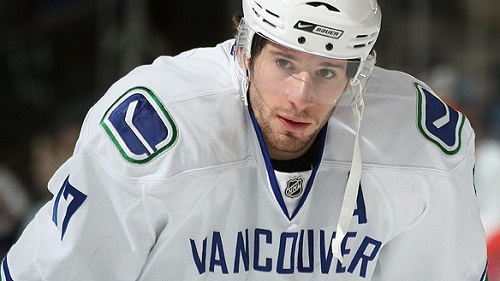 Ryan Kesler's return to the Canucks lineup lasted a grand total of *DRUMROLL PLEASE*, 7 games. Coach Alain Vigneault announced during a post-practice press conference that Kesler has a broken right foot and will be sidelined for up to 8 weeks. Vigneault told reporters the fracture showed up on a CT scan Wednesday morning.
Vigneault didn't say exactly when the injury happened, but indicated that he might've played a few games with it. Reports later said that Kesler injured it in his first game back into the line-up, what a low blow. Although if he's been injured since his first game back, he hasn't showed it, he's put up 6 pts in 7 games. Kesler was seen with an air cast early Wednesday morning and didn't practice with the team.
This is a huge setback for Kesler as he just returned from shoulder surgery two weeks ago. He provided an immediate boost to the Canucks second line putting up a goal and 5 assists before his injury.
Vigneault wouldn't confirm who would replace Kesler, but Andrew Ebbett will slot back into the line-up.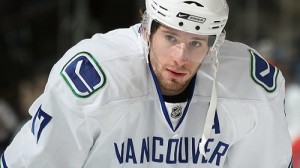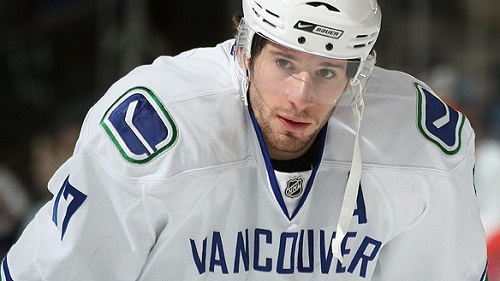 The news doesn't end here.
Manny Malhotra spoke for the first time since being put on the injured reserve. It was a little under a month ago when General Manager Mike Gillis told him it was all over. Today Malhotra made it clear that at first he didn't agree with the situation, and he wants to play still, but admitted that he believes Gillis cares for his future and didn't want him hurt.
Malhotra is in the final year of his contract and won't be asking to be moved anywhere anytime soon so he can give it another go elsewhere. The Canucks have given him an offer to learn the business from the other side, and maybe continue his hockey career as a Coach or in a Management role. He will also to continue working out with the players whenever he can.
And if you thought the news was done here, think again.
In a surprising move, the Canucks waived Aaron Volpatti Wednesday. The 27 year old winger played 16 games with the big club. He scored a goal and added 28 penalty minutes. Volpatti will definitely be missed on this Canucks squad. Volpatti carried the heavyweight role on the team with his big hits and willingness to bang. Volpatti also played in a defensive role which worked effectively this season.
Thursday, Volpatti was claimed by the Washington Capitals.
On Friday, the Canucks found a replacement for Aaron Volpatti, claiming Tom Sestito off waivers from the Philadelphia Flyers. Sestito was a third round selection of the Columbus Blue Jackets in the 2006 NHL Entry Draft and has seven points and 159 PIMS in his NHL career.
Just another week in Vancouver.
Love Reading About Hockey?

Subscribe to keep up-to-date with the latest and most interesting hockey news!
| | |
| --- | --- |
| | We hate spam just as much as you |