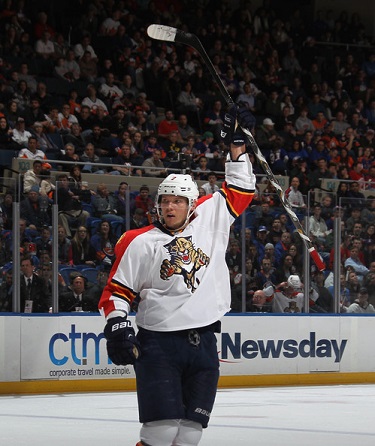 If you're reading this, I'd assume that you have an affinity of some degree for hockey; whether it's the finesse and skill, the strength and clout, or the amount of fantastic foreign names, you probably have your reasons.
If you're like me, names become somewhat of an amusement-what, with more –ski's than an Aspen winter resort and more vowels than I know what to do with-adding an extra element of entertainment to the tilt at hand. Who can decipher the sprawling surname arched over Player X's shoulders? It's basically Are You Smarter Than a Fifth Grader? on ice. And everything is better on ice.
If it were up to me, every team would have just enough to keep stadium announcers on their toes-with these guys. Just because. It doesn't, however, come unwarranted. Over the years, European hockey players have developed a reputation of technical superiority, albeit at physicality's expense. However this comes with it's exceptions; look no further than the behemoth that is Zdeno Chara.
But for all of their talent, our friends from across the pond-Russians in particular-have long been viewed under a microscope. Perceived lacks of drive and dedication keep teams on their toes, wary of the prospect that their star player may bolt to the motherland once the proverbial waters get rough. Still others question their adaptability; doubting their willingness or ability to morph their skillset to fit the faster, tighter-checking North American game, NHL clubs may hold them at arms distance.
What happens, however, when development gets thrown into the mix?
Recently, rumors have swirled regarding one Dmitry Kulikov, a young blueliner playing his hockey for the struggling Florida Panthers. In the wake of a career year in 2011-2012, the defenseman has appeared to hit a wall in his development; following a 28-point campaign in which he only played 58 games (a career high in production), his offensive game hasn't been up to snuff. In his 62 NHL games over the past two seasons, he managed a paltry 14 points, coming as a bit of a shocker for the former 14th overall selection.
Voices have emerged from the muck that is the South Florida hockey scene calling for a trade, suggesting that General Manager Dale Tallon and his brain trust ship the two-way rearguard out of Sunrise before he becomes a damaged good, selling on potential rather than performance. Evidently, the Toronto Maple Leafs have scouted Kulikov extensively over the past few seasons-but should Tallon pull the trigger?
Online prospect database Hockey's Future had this to say about a young Kulikov:
"In addition to his superb hockey sense and confidence beyond his years, Kulikov is no slouch in his own end and he's smooth enough on his skates to quickly be in position to break up any counter-attack that he may come against. Still adjusting to the physical grind of the longer North American season, he'll only get better as he continues to fill out and mature"
In perspective, it's easy to see where this conclusion was drawn. Playing for a championship caliber Drummondville Voltigeurs junior squad, Dmitry Kulikov placed fifth in team scoring, despite appearing in an average of six games fewer than his companions who placed in the team's top-ten scoring race. His plus-minus rating of 34 placed fifth among all Voltigeur skaters, albeit third among defensemen.
Granted, this happened years ago five to be exact. Things change. Players progress and regress, boom and bust. But one also has to acknowledge that he plays defense for the Florida Panthers. I repeat. The Florida Panthers.
As much as it pains me to say, the boys from Sunrise have historically been one of the NHL's worst franchises in terms of regular and post-season success. Excluding a surprise Southeast Division title and playoff appearance in 2011-2012, the team's point percentage has been in steady decline since Kulikov's rookie 2009-2010 season, more of a product of the team put out on the ice every night than the growing pains of one player.
His numbers recently haven't impressed, but I'm wary to cry bloody murder just yet (all numbers courtesy of NHL.com and Behind The Net):
Yes, he's a combined -14 since that magical run to the postseason- the Panthers finished in the cellar (and are in contention to do so again), buried by a league-worst 3.54 Goals Against Average in 2012-2013 that I, once again, place the blame on the shoulders of the defensive unit as a whole.
Going back to that plus/minus figure I just mentioned, his minus-five mark for last year's season was second best on the squad among defensemen with at least 20 games played. Brian Campbell posted a deplorable -22. Furthermore, "Kuli" averaged 16.88 minutes of even-strength ice time a game (this was second only to Soupy Campbell), burying the notion that his numbers were the product of luck without a valid sample size.
The team posted a .915 save percentage while Kulikov was on the ice, highest on the team; furthermore, the Panthers allowed an average of 3.52 goals with the d-man off of the ice. This was a team worst when compared to the more manageable 2.61 with him playing a shift. The 2.61 Goals Against Average (GAA) was also a team best.
While the aforementioned statistics betray Kulikov this season, the difference lies in his zone starts; last campaign, the rearguard began his shifts in the offensive zone 57.3% of the time, compared to this year's 47.4%. The greater defensive workload, paired with a weak defensive unit (as evidenced by the Panther's 2.9 GAA, besting only the Albertan franchises) spells trouble for any player.
HE'S STILL 23-YEARS OLD. GIVE THE KID A BREAK.
All in all, I just don't see the benefit gained in trading Dmitry Kulikov- not for a team struggling defensively, at least. He's young. He's a veteran of 260 NHL games. He still has every opportunity to fulfill his potential. Barring his bolting to Russia following the expiration of his current deal this summer, Kulikov could provide the Panthers a reliable two-way player, a top-four regular. He can play. He can hit. We've seen it before.
And while turnovers are the bane of any hockey club's existence, don't dangle them as a specter above a player's head-not when Tom Gilbert delivered Rick Nash the drop pass of the century to fire home a game-winning goal.
I was there. That sucked.
Love Reading About Hockey?

Subscribe to keep up-to-date with the latest and most interesting hockey news!
| | |
| --- | --- |
| | We hate spam just as much as you |