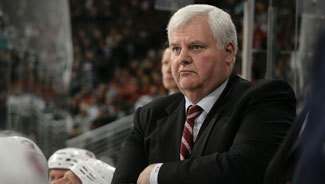 The Blues announced May 7 they have signed head coach Ken Hitchcock to a one-year contract which will keep him with the team through the 2014-15 season.
Hitchcock has been with the team since the 2011-12 season when he took over for Davis Payne who started the season 6-7-0. Since then Hitchcock has coached the Blues to 124 wins in three seasons – one lockout shortened – including a franchise record 52 wins this past season.
The decision to retain Hitchcock is a curious one, given his team's inability to make it past the first round in three straight playoff series. He has, however, shown potential in his short time with the team, and his coaching style is easily visible in the team's play: physical and tight in the defensive zone.
Not all of Hitchcock's staff will be returning next season, though. Assistant coach Gary Agnew and goaltending coach Corey Hirsch were each relieved of their duties, while assistant coach Brad Shaw and associate coach Ray Bennett will return next season.
And rumors have already started to circulate about who the replacements will be. CBC's Hockey Night in Canada suggested Jim Corsi, former goalie coach of the Buffalo Sabres, could be next in line to replace Hirsch. Corsi and Blues goaltender Ryan Miller worked together in Buffalo, but Miller – a UFA this summer – would likely have to resign for Corsi to entertain the idea of accepting a job.
As far as the vacant assistant coaching position there are a number of potential candidates who could successfully fill the role. Kevin Dineen has been out of a job since November of 2013 – though he did coach Canada's Women's National team at the Sochi Olympics – and Adam Oates had three great seasons with the Blues from 1989-1992 (including two 100-point seasons).
All in all, while the decision to bring Hitchcock back for another season is questionable – given the lack of playoff success – it was the right move to sign him to just a one-year deal. And with the right additions to the coaching staff and roster, Hitchcock may finally be able to take his team to the promise land.