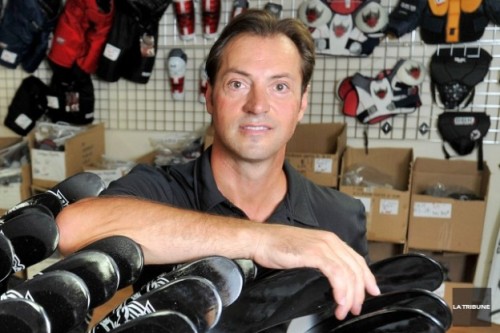 Kevin Dineen has a proven track record. He arrives in Chicago fresh after leading Canada's Olympic Women's team claim Gold in Sochi. On an international stage, he's proven he can do the job.
But he doesn't only have Olympic experience. In the NHL, Dineen most recently helped the Florida Panthers take their first ever Southeast Division Championship in 2012-2013 as the team's head coach.
Before that, he was a success in the minor leagues as he was head coach for the Portland Pirates of the American Hockey League. His success was so notable there that he took home the AHL's Coach of the Year Award in 2005-2006.
His coaching instincts come from his time spent on the ice as a player. Dineen spent several years with the now defunct Hartford Whalers where he was teammates with Chicago's current head coach, Joel Quenneville. His NHL accolades include two NHL All-Star appearances and he led the league in game-winning goals in two separate seasons.
The two will be reunited again behind Chicago's bench this upcoming season.
"I am thrilled to join Joel Quenneville, a future Hall of Fame coach, and Mike Kitchen, as we strive to reach the ultimate goal in professional hockey," Dineen said. "It is easy to understand why the Chicago Blackhawks are considered one of the top franchises in all of professional sports."
Some Blackhawk fans may remember a goaltending coach by the name of Stephane Waite, a former Blackhawk himself who coached Jocelyn Thibault, Nikolai Khabibulin, Cristobal Huet, Antti Niemi, Marty Turco, and Corey Crawford. He helped the netminders that gave Chicago their last two Stanley Cup Rings.
Now the Blackhawks have his little brother. Jimmy Waite has stepped in where his brother left off and is the new goaltending coach for Chicago. But he's no stranger. Waite appeared in 58 games with the Blackhawks, playing in eight seasons from 1988-1997. He's had success coaching netminders in the minor leagues, and now he's followed his brother and taken a step up.
"I'm very excited to come back to the Chicago Blackhawks, the team that drafted me in 1987," he said. "I look forward to working with Corey and Antti, and to help contribute to the success of this organization.
"He has over two decades of professional hockey experience and will be a great addition to our coaching staff," said Blackhawks General Manager, Stan Bowman.
Hopefully, success runs in the family. Stephane coached Jimmy during Jimmy's career and was able to guide Niemi and Crawford to Stanley Cup history. Hopefully, Jimmy can point Crawford and Antti Raanta in the right direction again.