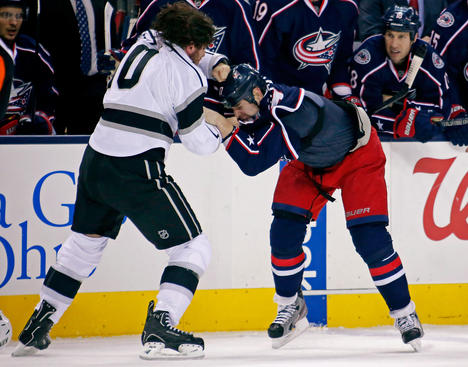 It's been a whirlwind week for the Kings. They played the first in a series of road games against their Southern California rivals, the Anaheim Ducks, where they experienced a devastating loss.
Within five minutes of the puck dropping, Anaheim had scored two goals against Conn Smythe winner, Jonathan Quick. This prompted head coach Darryl Sutter to pull the revered goalie, a move Sutter has only had to make about five times in his coaching career.
The move wasn't based solely on Quick's performance, but on the woes the team has faced as a whole. Having two veteran defensemen out has hurt them, but the offense has had problems getting the puck into the net.
It seems like the 7-4 loss did the Kings good. They came back and played hard against the Columbus Blue Jackets on Tuesday night. Russian Defenseman Slava Voynov, a rookie who became a Stanley Cup Champion in his first NHL season, impressed with his d-man skills while managing to score the game winning goal.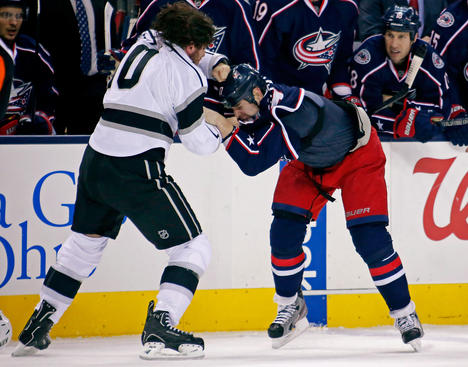 That game also saw some heavy penalty times. Blue Jackets Brandon Dubinsky received a major and game misconduct for boarding Kings Rob Scuderi, sparking Mike Richards to jump in and defend his teammate, earning his own penalties. Dubinsky later received a $10,000 fine, the highest amount allowed under the new Collective Bargaining Agreement.
Richards was the Gordie Howe Hat Trick star of the game, with an assist in the first period, a goal in the third and his scrap with Dubinsky.
On Wednesday, the Kings announced that Center Andrei Loktionov was traded to New Jersey for a fifth round draft pick. The move was unsurprising, as he had requested the move a week before. With centers like Anze Kopitar, Richards, Jarret Stoll, and Collin Fraser, Loktinov was not abe to see very much ice time, and he wasn't able to prove himself an asset to the team during the game time he did receive.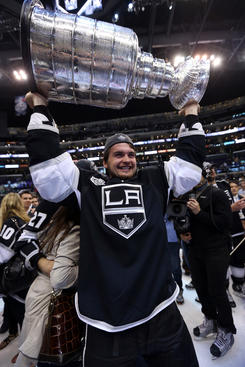 As of today, the Kings are in the bottom of their division and twelfth in the Western Conference, though most teams are rounding out or have surpassed the 10-game mark. Tonight's game will be the Kings ninth of the season. There is a margin for them to catch up, but in a shortened season, racking up the points is key.
This evening, last season's road warriors continue their travels east to Tennessee, where they will play their second game against the Nashville Predators. Hopefully, they have ironed out some of their trouble areas and can earn themselves a couple of much needed points and begin to reclaim their road win crown.