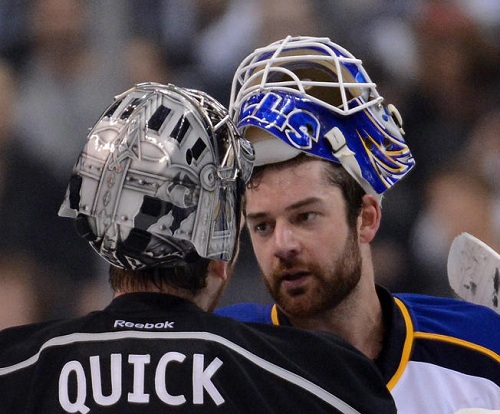 The defending Stanley Cup Champions will begin their first 2013 playoff game in St. Louis tonight, as they meet the Blues in the postseason for the second year in a row. Los Angeles won the first four games that they played against the Blues in the second round of the 2012 Stanley Cup Playoffs, and they have won each of the three times they have faced them this season.
The question everyone is waiting to have answered is this: Are the Kings going to be a dominant playoff team this year? Can they prove that last year was no mere accident (for all of the people who claimed that their success was only a fluke)?
On paper, the two teams are fairly evenly matched. St. Louis is only one seed ahead of Los Angeles and effectively secured home-ice advantage by a win.
The Kings seem to be the favorites in this matchup; however, they have been plagued throughout the current season with both defensive and offensive problems. This series is bound to be a physical one, with big guys and heavy hitters on each side.
Jonathan Quick may have helped get his team to and through the playoffs last year, earning himself the Conn Smythe Trophy. But that isn't the Quick we've seen this year. He is still good, but Brian Elliott, who battled an ear infection throughout the 2012 postseason, is a healthy contender this time around.
The Kings will be doing without defenseman Matt Greene, who has missed all but three games due to injuries, and it is uncertain when he will return. Center Mike Richards is expected to join the starting lineup, after missing the third period of Saturday's season closer against the Sharks due to an undisclosed illness.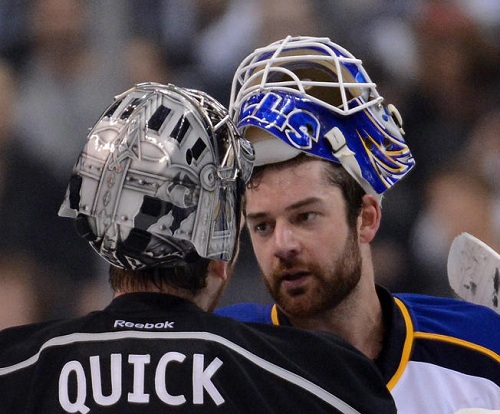 St. Louis, who beefed up their ranks since the Kings last played them, with Jay Bouwmeester and Jordan Leopold, are a slightly different team than L.A. saw earlier in the season. The Kings, however, have added Robyn Regehr to their roster. The Blues are playing without Scott Nichol due to a lower body injury. T. J. Oshie, who has been out with a foot injury, will likely play tonight, as will Barret Jackman, fresh from an ankle injury.
The Kings can't expect the same success that they have had in the past. Quick said it best. "We both start 0-0 and we're just going to have to outwork them." In the playoffs, there's no such thing as a past season. There is only the best out of seven games.
This is going to be an exciting series, and it starts in a matter of hours. Let the playoff beard growing commence!