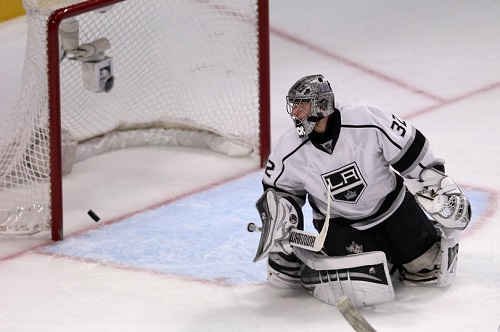 The playoffs don't care if you're injured. And indeed, many of those in the Kings lineup have been playing through injuries. Here is a quick overview.
Jonathan Quick – As far as I know, he isn't physically injured, but hopefully his pride isn't too wounded after Sunday's game to make a Conn Smythe deserving comeback in tonight's game. He was pulled halfway through the second period after allowing four goals on 17 shots. Backup goalie Jonathan Bernier came in refreshed and energetic, but he couldn't help the Kings offense score enough goals to make up the deficit, and only Jeff Carter and Tyler Toffoli got on the scoreboard. In fact, the line composed of Dustin Penner, Carter, and Toffoli was by far the most effective.
Dustin Brown – It's all speculation, but Brown is a hard hitter who has been playing under par. There is likely an injury keeping him from playing to task. The hits will just keep getting harder, and he will have to keep playing tougher.
Anze Kopitar – Again, rumor has it, Kopi's been playing through an injury of some sort. Of course, none of this will be disclosed or confirmed until after the Kings season ends. If there is any truth to the rumors, it is evidence by Kopitar's lack of production on the ice. Injured or not, he needs to find a way to get points, more now than ever before.
Matt Greene – He went a whole season without playing more than a couple of games when he was taken out of the season opener against the Blackhawks with a back injury that required surgery. His presence on the ice is known, but he isn't quite back at the level he was at last year.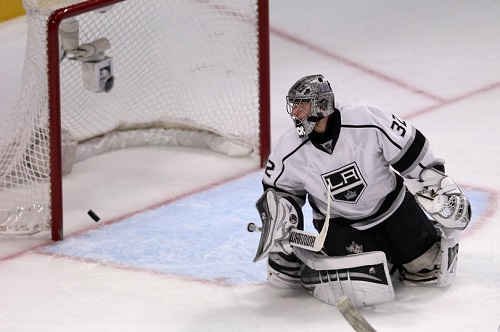 Willie Mitchell – He is worthy of a mention. He never saw a game this season after having multiple knee surgeries, and the Kings have struggled to find an equal to replace him.
Robyn Regehr – Just prior to Game 2, he took a puck to head by Greene and had to be stitched up. He was supposed to be a scratch for that game, but he ended up in the lineup for the night.
Mike Richards – During the final moments of Game 1 against Chicago, Richards was hit in the head when Blackhawk's Dave Bolland charged into him with his back. Although Richards was visibly shaken and has not played since due to concussion-like symptoms, Bolland was not penalized during the game, and the league decided that the hit did not warrant supplemental discipline. While a minor penalty against Bolland may not have earned a point in a game the Kings lost by only a goal, it is another missed call by the refs that have been far too common this postseason.
Jarret Stoll – After Sharks Raffi Torres knocked him down, Stoll had a concussion and missed the remainder of the second round. He is still not quite where he should be, as can be expected. Stoll was in Torres's wedding party. Is that a friendship that can be mended over a few beers?
Drew Doughty – Bryan Bickell of Chicago tripped Doughty during Game 2, earning a penalty. Doughty seemed no worse for the wear, but the move by Bickell was ugly.
Slava Voynov – If at first you fail to take out Drew Doughty, try Voynov. Bickell tripped him up in similar fashion during the third period of the same game.
The weary and battered troops will have to make a giant comeback and find a show of force in spite of their woes if they are to defend their championship title. They are back home, where they are so far undefeated in the playoffs. Chicago looks to take the series one game further in the process of dethroning the reigning champs. LA was able to take the series back from St. Louis in the first round after losing the first two road games, but Chicago is undoubtedly a much bigger giant to face. It's the playoffs, though, and we've seen teams stage amazing comebacks. I wouldn't count anyone out just yet. And lest the Blackhawks rest on their laurels, the Kings played a fierce game the second time around, and a better night by Quick could have resulted in a different outcome.