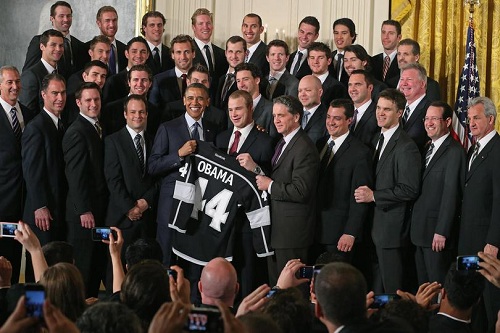 It was a royal visit to Washington, D.C. yesterday as the Los Angeles Kings took over the White House, along with the LA Galaxy. The Kings recieved the honor for their first franchise Stanley Cup Championship. The Galaxy won their fourth MLS Cup in 2012.
The president congratulated the teams and summarized their efforts to win their titles. He also took some time out to joke around a bit.
"I'm a little resentful, coming from Chicago, that L.A seems to be getting all of these championships," teased President Barack Obama. He also acknowledged the Kings win against the Blackhawks the previous night. He took credit for the Galaxys win since they won after meeting him and gave credit to Chicago for turning out such a great coach in Darryl Sutter.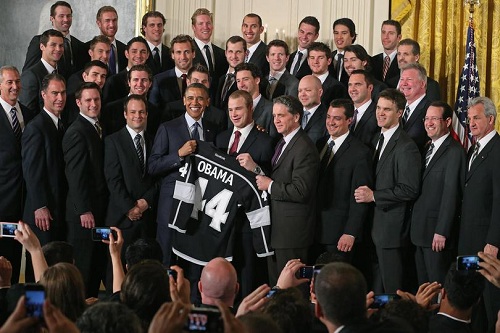 Yes, Mr. President. They did just beat your Hawks. And in regulation. But the Chicago team leads the league in points, so the president has definite bragging rightts.
At the close of the ceremony, both southern California teams presented the president with team jerseys. The Kings jersey bore the number 44 because Obama is the 44th president. Obama said that it was a lucky number.
Noticeably absent from the ceremony and missing in action at today's practice in St. Louis was Kings backup goalie Jonathan Bernier. The Interwebs are aflutter with trade rumors, but he apparently had a personal, family matter to which he had to attend.