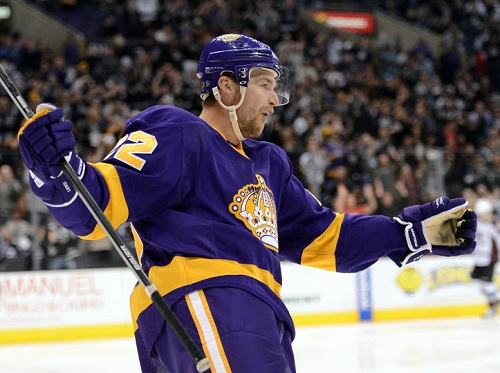 The 2012 Stanley Cup Champions are back!
Captain, oh my captain. Yesterday's game against the Colorado Avalanche was dedicated to former King and Avalanche, Ian "Lappy" Laperriere. Dustin Brown celebrated by getting first blood just 58 seconds into the game, setting the tone for the first period. Jeff Carter earned a two-goal lead for Los Angeles with a wristshot, assisted by Slava Voynov and Mike Richards.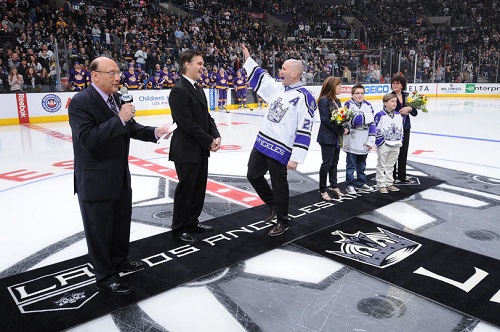 The second period began with a power play goal by Colorado's Milan Hejduk. It would be the only goal of the day for the Avalanche. Trevor Lewis, who has been a powerhouse during the last few games, responded quickly by scoring his first short-handed goal ever. He very nearly scored a second one, but Semyon Varlamov was able to stop it in time.
Anze Kopitar looked like a King, earning an assist and scoring the final goal of the game.
The Avalanche isn't the most difficult team the Kings could play, but they shouldn't take their victory lightly. Their lines flowed naturally. Jonathan Quick looks stronger each time he plays. And most importantly, they won an afternoon game, a rare feat, and have climbed their way into eighth place in the Western Conference! Eight is the Kings magic number. The Kings of old are back.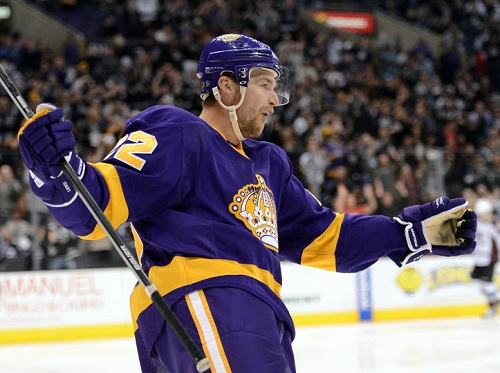 The only bad thing about the game were the purple and gold throwback jerseys.
See the tribute to Lappy, below.