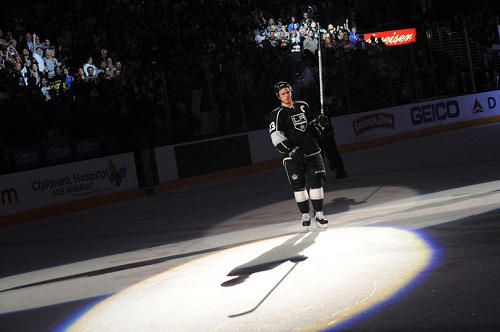 People love to hate, especially key players of rival teams. Los Angeles Kings Captain Dustin Brown is among the most hated, at least in the Western Conference. After all, he is notoriously guilty of making clean hits that plow guys over, while coaches demand penalties to be called that shouldn't be.
I admit it; I'm biased. I like Brown. There is nothing I despise more in the game of hockey than a dirty player. Brown isn't that. Sometimes he falls. However, I cannot remember the last time one of his hits caused any serious damage, and his lack of disciplinary record is proof that he is not the dirty player that so many claim he is.
But bring out the tar and feathers! The voices of many cried out for blood in reaction to a defensive move made by Brown that ended up with his elbow in the face of Minnesota Wild player Jason Pominville. And they got that blood. The refs failed to call any penalties at the time, but Brown faced a hearing the next day. Brown was sentenced to a two-game suspension, though he was in possession of the puck while being plowed into from behind. Was there intentionality? The jury is out on that one, and Brown is the only one who can answer that for certain. A fine may have been reasonable. A one-game suspension would have been too much, in my opinion, but in a play that is easily questioned, it would have been understandable. To suspend a guy for the last two games of the regular season, a guy who has never been suspended in his entire NHL career for a defensive move made while his stick was on the puck is an example of Brendan Shanahan's notorious inability to make consistent rulings.
That said, I hope Pominville heals quickly, and I hope Brown is more careful in the future.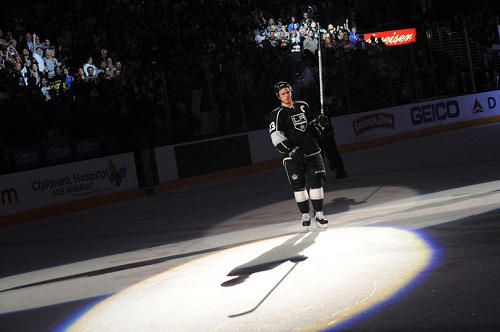 Tonight the Kings are fighting against their northern California rivals the San Jose Sharks for possible home-ice advantage, depending on the outcome of the Blues vs Blackhawks game, and they will be playing without their captain or defenseman Matt Greene. Greene returned for just two games after suffering a back injury in the first game of the season. He is out of tonight's lineup with an undisclosed day-to-day injury that coach Darryl Sutter has insisted is not related to his back injury. Former Panther Keaton Ellerby will be taking his place tonight.
By the end of the night, we will have our seeds and people can start planning to buy their playoff game tickets. Things are just starting to get exciting.