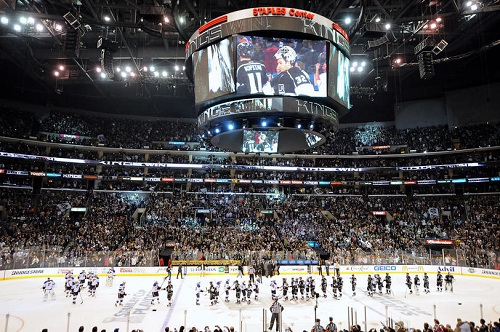 Last night, the Kings shook hands after winning Game Six at the Staples Center in Los Angeles, with frenzied fans shouting and whipping rally towels. That is one round down, and hopefully three more to go for the defending Stanley Cup Champions.
The Kings managed to miss out on home-ice advantage when they came in as the fifth-seeded team on the Western Conference. They began their first series by playing the fourth-seeded St. Louis Blues in a fairly even match.
Things were looking meager when they lost the first two games by a point. The first game ended after an embarrassing gaffe made by goaltender Jonathan Quick. He made up for poor play by the rest of his team by getting them to overtime, where he decided to go behind the net to play the puck, leaving his crease clear and empty. Blues' Alex Steen used the opportunity to steal the puck and score the game-winning point, and his second of the night. Quick was able to shake it off, but the Kings lost the second game in St. Louis.
Back home, things may have been a little more tense, if not for players, then definitely for spectators. Could the Kings pull themselves up from a two-game deficit?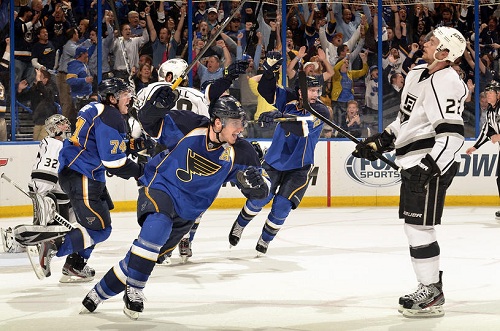 Last year they were the road warriors. This year is seeing a slightly different team. But they were able to fumble their way through their two home games with wins, and then they went on to win the next two, completing the series. Once again, they sent the Blues packing after winning four in a row. It wasn't quite a sweep, but it was a comeback after losing the first two games.
Each game of the round was extremely close, with only a one-goal difference. The teams went into overtime twice.
The Kings have plenty of room for improvement as the stakes get higher and the teams get tougher. They have played inconsistently, dominating during parts of each game, only to find themselves completely overwhelmed a few minutes later. Their forecheck is, at times, non-existent. Their defense, at times, consists of one man, and we all know who that is. Quick may have made a mistake that cost them Game One, but they never would have made it to overtime without him. Last night's game could easily have gone either way. Kings Center Dustin Penner hit a weak shot that somehow made it past the Blues' Brian Elliott, and even Penner, who is in top playoff form, was surprised to see it go in. The Blues had the unfortunate luck to hit a few posts. A matter of inches could have made the game go a different way, which would have tied the series.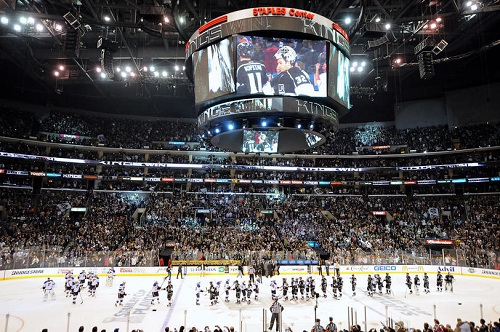 Now the Kings get to rest for a few days while they wait to see who they will meet up with in Round Two. There is a possibility of them staying in Southern California if the Ducks can get themselves another win.
Anaheim and Los Angeles better brace themselves for possible riots.