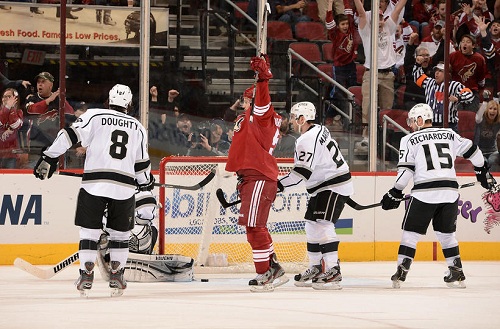 You win some, you lose some.
The Kings may not be going on any Chicago or Pittsburgh worthy winning streaks anytime soon, but they are holding their own.
Last week, for the second time in a row, the LA Kings swept the St. Louis Blues away. In a devastating playoff run, the Blues lost the four games that they played against the eighth-seed Kings in the 2012 Western Conference Semifinals. They were unable to walk away with even a single victory against Los Angeles.
That pattern has continued into the 2013 season.
In the words of the LA Kings mascot Bailey via his Twitter feed, @BaileyLAKings, "Kings beat the blues [sic] again. What else is new?"
That win was followed by a shootout loss to Minnesota and a win in Dallas. The Kings outshot the Stars 40-15. Goalie Jonathan Bernier dedicated the Easter game to his grandmother, who passed away earlier in the week.
Last night, former Kings goaltender Jason LaBarbera led the desert Coyotes to a 3-1 win against Los Angeles. The only goal scored for the Kings was by Justin Williams, who is on a four-game scoring streak. LaBarbera is the butt of many jokes in L.A., but he outplayed Conn Smythe winner Jonathan Quick by making 39 saves to Quick's 28. It leaves many Kings fans scratching their heads at coach Darryl Sutter's choice to play Quick so often when Bernier has been having a consistently better year in net.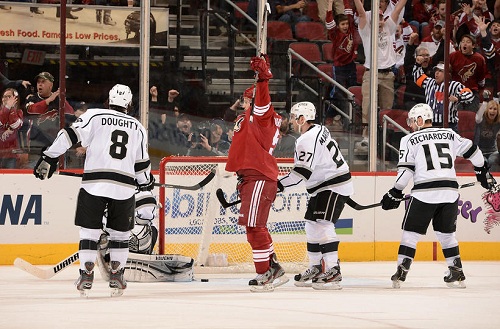 Nonetheless, the Kings have played hard and are fairly secure in their playoff spot. The Coyotes, on the other hand, are fighting their way out of 12th place in the Western Conference.
In other Kings news:
Jake Muzzin, who was originally drafted by the Pittsburgh Penguins before signing on with the Kings, was named NHL's Rookie of the Month for March. He currently has a total of 14 points, with six goals and eight assists, for a +13 rating. Four of those goals and seven of those assists were from March.
With today's trade deadline, the Kings have made some minor adjustments to their roster. On Monday, they acquired Robyn Regehr from the Buffalo Sabres in exchange for two second-round draft picks. Matt Greene is at least a month away from returning to the active roster, and Willie Mitchell has just confirmed that he will not be returning this season. Regehr's physical presence will help bolster the Kings defense. Kings GM Dean Lombardi managed to grab a much needed defenseman and maintain the rest of his team line-up.
That is, other than the trade of Davis Drewiske to Montreal. Drewiske played only nine games last season. In 20 games this year, he has picked up one goal and three assists. Los Angeles received a 2013 fifth-round draft pick in return. Hopefully he will see more ice time with the Habs.
The Kings get another shot to claim a victory over the Wild at tomorrow night's home game.