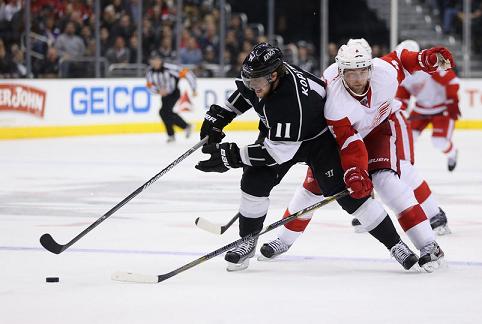 Who hasn't had negative things to say about the hungover Los Angeles team? Well-paved was the road to embarrassment, as they lost their first three games of the season.
Well, bite thine tongues, naysayers!
The last game the Kings lost was on Feb. 17 against the Blackhawks. That's not the worst thing in the world, considering the Hawks record-breaking status this year. Since that game, L.A. has managed to earn five straight wins.
After humiliating the Kings earlier in the month with a 7-4 win, Anaheim sought to set up a rivalry between Kings goalie Jonathan Quick and new Ducks goalie Viktor Fasth. Fasth is not to be taken lightly. He won his first eight starts as an NHL player. But his winning streak was broken by the Kings, and future games between the hockey clubs will be interesting to watch.
In Wednesday's game against the Detroit Red Wings, Kings coach Darryl Sutter decided to start backup goalie, Jonathan Bernier, who has a .931 save percentage this season. The Kings trailed 1-0 for the first 40 minutes, but in the third period, Jeff Carter was able to tie things up, and Anze Kopitar scored the winning goal for Los Angeles.
March will be an exhausting month for the Kings, who are scheduled to play 17 games, which is not uncommon during this shortened season. They have managed to work their way up in standings and will hopefully be able to keep that momentum going.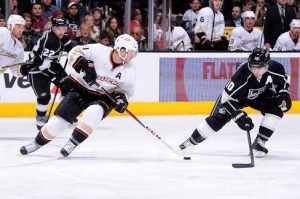 Kings left winger Dwight King will be playing his first game as a new dad against Vancouver tonight. He and his wife welcomed Grace Emma King on Thursday afternoon.
The Canucks have two fantastic goalies in veteran Robert Luongo and Cory Schneider, but both have seen trouble on the ice. Most notably, Luongo let eight goals in during last Sunday's game against the Red Wings. Center Ryan Kesler is out with a broken foot. Vancouver's defenseman Kevin Bieksa has been contending with a groin injury but practiced with the team on Friday.
It's a short season that has been hard physically on every NHL team.
Can the Kings make it six in a row? Tune in to tonight's game and find out!