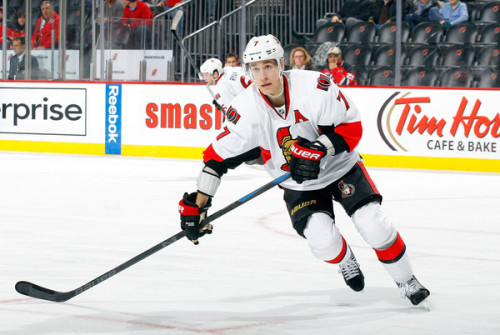 After a brutal looking collision against the New York Islanders – the impact bending his leg in a way no leg should ever bend – wasn't able to keep Kyle Turris out of the lineup, Sens fans began to question if their resident iron man would ever miss a game.
But alas, history was not to be made and, for the first time since coming to Canada's capital via trade with the Arizona Coyotes (then the Phoenix Coyotes), Turris missed his first game with Ottawa when his team played in New Jersey Jan. 21. In all, Turris appeared in 307 consecutive games, falling just four games short of tying Chris Phillips's record 311 consecutive games.
In today's NHL – where players sitting out for "precautionary reasons" has become the new norm, making it difficult to play a full 82-game season, let alone three consecutive full seasons (including a lockout-shortened year) – Turris's feat is all the more impressive. But simply appearing in so many games means nothing if the player can't back it up with his play.
Fortunately for the Sens, Turris has been a stud since suiting up for his first game with the team Dec. 20, 2011 against the Buffalo Sabres. He has easily been Ottawa's most valuable forward since then and could conceivably have been the team's MVP if not for the emergence of a superstar defenceman by the name of Erik Karlsson.
Prior to Ottawa's most recent game against the New Jersey Devils, only Karlsson (308 games) had played more than Turris, albeit not consecutively. In his 307 games Turris put up an impressive 210 points, considering he received largely second line minutes for much of his early years in Ottawa while Jason Spezza occupied the first line centre role.
While Karlsson leads the team in points since the 2011/12 season with 281, Turris has the most goals (87), game-winning-goals (17) and, among the small number of Senators with a minimum 200 games, P/60 (2.16). In his three full seasons in Ottawa Turris has also never finished lower than third in the team scoring race, although he currently sits fifth with 35 games remaining.
Aside from his scoring touch Turris has been among the team's best setup men, recording 81 first assists and 42 second assists to sit behind Karlsson in each category. His impact on the team's power play has also been tremendous, recording 17 PPGs and 52 PPPs, good enough for third- and second-best on the team respectively.
But it's in the playoffs that Turris has unquestionably made his most significant contributions as an Ottawa Senator. In addition to putting up a team-best 14 points in 23 post-season games, his penchant for scoring big goals has cemented his legacy as a clutch performer, creating memorable moments in two separate series along the way.
Against the New York Rangers in 2012 it was a Turris snipe over the glove of Henrik Lundqvist in Game 4 that tied the series with the high-octane Rangers and gave the Sens some life. Then, against the Montreal Canadiens the following season, Turris took advantage of a cold Peter Budaj – who replaced an injured Carey Price in overtime – to score a weak game winner that gave Ottawa a 3-1 series lead.
Say what you will about his suitability to fill the role of first line centre, but Turris has been nothing short of an impact player in his fairly brief time in Ottawa.