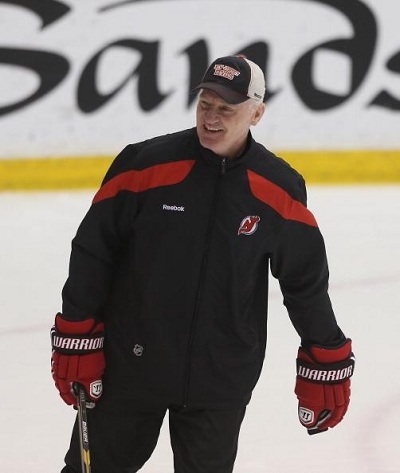 So far it's been a relatively quiet off-season for the San Jose Sharks. Don't get me wrong, General Manager Doug Wilson has kept busy this summer, adding roster depth with players like forward Adam Burish and defenseman Brad Stuart. But it seems like Wilson is confident with his core group of players, and instead of adding new talent he has brought in a brilliant hockey mind to shape his team into cup contenders. That man of course is hall of fame defenseman Larry Robinson.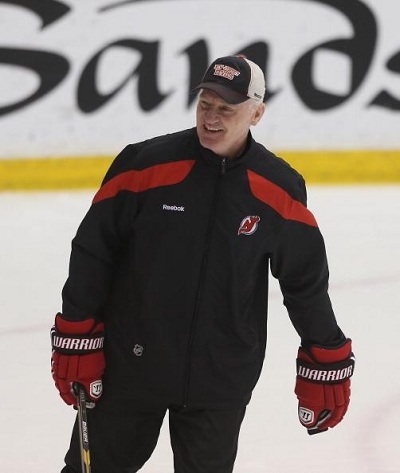 Robinson had a storied career as a player. His six Stanley Cup rings with the Candiens, Conn Smyth Trophy and two James Norris Trophies make him one of the most decorated coaches in the NHL today. The ten time all-star scored 958 points in his career and his +730 plus-minus rating is the highest in NHL history, more than 200 points better than his closest competition Ray Bourque. He's even ranked 24th on The Hockey News' 100 greatest hockey players list. My point is the guy could play. His experience and skill is invaluable as a coach, and he has the ability to take a great players such as Brent Burns and make them elite defensemen.
Not only has Larry been successful as a player, but also as a coach, and it just doesn't get any better than that for the Sharks. Robinson has been to five Stanley Cup Finals with the Devils, winning it all as head coach in 2000 and twice as an assistant in 1995 and 2003; proving he knows what it takes to help his team win in both leading and supporting roles. He should fit perfectly into his associate role behind the bench along side Todd Mclellan.
So what will Robinson's role be as an associate coach in San Jose? In a recent interview head coach Todd Mclellan stated "obviously with Larry his involvement will be geared towards the defensemen. It only made sense that he continues to work there. He'll have some responsibilities with the penalty killing, and maybe just as important as that he'll have the ability, as far as team building goes. He's played on some championship teams with some very strong characters in the locker room, and he's been able to integrate new people into the line-up as well as maintaining a respect for those players that have been there in the past, and we think he'll be able to help us in those areas as well." My hope as a fan is that with Robinson's help, the coaching staff can re-define the team's identity, asses what tools they have and then try to get the most out of their players as possible. It has long been thought that the Sharks have the talent needed to win a Cup, but they haven't been able to consistently execute when it really counts. Larry Robinson could be the answer San Jose has been looking for.
Most importantly I believe Robinson can have a huge impact on San Jose's penalty kill. The Sharks struggled on the PK all year, ending the season ranked 29thin the league with 76.9%. This problem was only magnified in the playoffs when San Jose killed only 66.7% of their penalties against the Blues, which played a large part in their quickest playoff exit in franchise history. Meanwhile, New Jersey's penalty kill led by Larry Robinson ended the season ranked #1 in the league at an impressive 89.6%. If there is one area that the Sharks need improvement it's special teams, and bringing in Larry Robinson is probably the best thing they could have done to fix that.
Larry sounds excited about coming to San Jose. He believes the Sharks are heading in the right direction as a franchise and as a team, giving him a chance to win his 10th Stanley Cup. When asked about about his new team, Robinson responded by saying "I like the mobility that we have, I like our size… We have a good mixture of physicality and offensive skills and I'm just excited. I think there is a great nucleus here with a lot of depth, and we've also got some good young kids that people haven't seen yet that also have a tremendous amount of mobility and I'm just really excited." I think I speak for all fans here in San Jose by saying we're all really excited too. It's a blessing to have a legend like Robinson behind your bench, molding the players we all love into the champions we desperately need.
Follow me on twitter @ChrisBleedsTeal