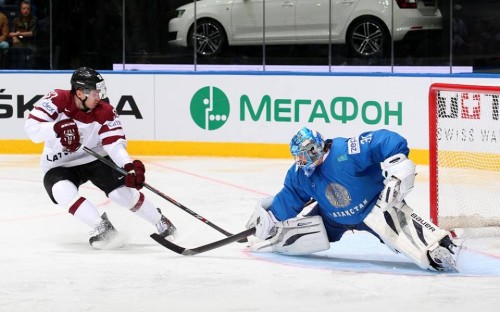 After Latvia's win against struggling Finland, the players on the team were probably feeling extremely confident. Maybe too confident, though. Their next game against Germany, they lost 3-2. Now probably feeling a little more humble, they had to play Kazakhstan.
The game was a shootout the entire 60 minutes. Teams were exchanging leads, and each individual lead didn't last long. At one point, Latvia had a 4-2 lead, but that barely lasted. The game winning goal came just four minutes into the third period, and Edgars Masalskis shut the door for the rest of the game. Latvia's remaining group stage schedule includes America, Russia, Belarus, and Switzerland.
Currently, Latvia is sitting at second place tied with the American in Group B. Only Russia is ahead of the two countries. The top four teams from each group advance.
Latvia still has to face Russia and America, two extremely strong teams. The key to beating those two teams will be getting a quick goal, and locking down on defense. Belarus is sitting at fourth place in the group, and Switzerland is sitting in last place. There may be a favorite, but there is no such thing as a sure win, evidenced by the game against Finland. Who knows…we might have a couple of upsets in the near future.