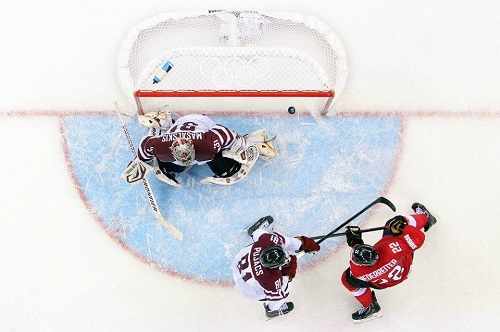 Going into their game against Switzerland, Team Latvia was a major underdog. A loss was expected, and an overall poor effort was predicted. So if you missed out on the game because you expected a dull game, oh man you made a mistake.
The game was a goaltending battle the entire 60 minutes. Jonas Hiller of Switzerland, and Edgars Masalskis of Latvia made saves after saves after saves. Hiller stopped 21 shots for a shutout, and Masalskis stopped 38 for an almost perfect performance. The one goal that did go in though came at a very inopportune time.
After an injury behind Latvia's net, Simon Moser of Switzerland carried the puck into the corner of the Latvian zone. While Latvia was a man down trying to get a healthy player on the ice, Switzerland had extra room in the offensive zone, and a frazzled Latvian defense. Moser threw the puck toward the net and it hit Latvian defenseman Georgijs Pujacs and slid across the goal line with 7.9 seconds left.
What looked like a game that was bound to go to overtime ended by a deflection that went into Latvia's own net.
This is unfortunate for Latvia for a multitude of reasons. Had it gone into overtime, Latvia would have had a rest, and could come out of the gates with a rejuvenated effort. Also, if Latvia won, it could have been a major confidence booster for the rest of the tournament.
Based on what we saw today, Latvia looks like they have a shot at winning a couple of games. If they keep putting up efforts like these, we may have an unexpectedly entertaining team on our hands.