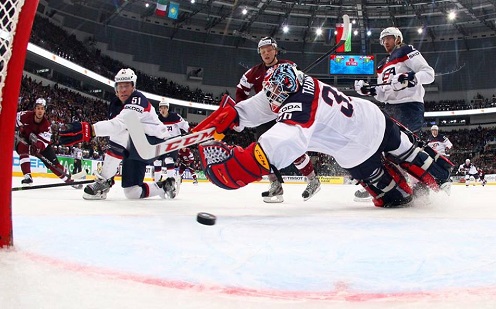 After a strong game against Finland, a weak game against Germany, and a strong game against Kazakhstan, there was really no way to guess what was going to happen during today's game against America. Latvia made a small lineup tweak, putting in Kristers Gudlevskis at goalie instead of Edgars Masalskis, who gave up nine goals in three games.
Latvia jumped out to a 3-1 lead, probably a little surprise to the Americans. USA then composed itself and tied it up, and it was 3-3 at the end of the second period. USA had good momentum going into what would be a phenomenal third period. It was a deadlocked period until the 52nd minute, when Kaspars Daugavins put the Latvians up by one. Fewer than two minutes later, a Seth Jones slapper was tipped past Gudlevskis to tie it up. Latvia would strike twice more, once again going up by two but this time with just minutes to go in the game. The game look out of reach for USA or so we all thought. Just to make things interesting, with 90 seconds to go, USA scored a goal to make it 6-5. That would be all the scoring, and when the final horn sounded, Latvia officially upset USA, putting them into second place in Group B
Latvia's next game will be on Saturday against undefeated Russia. Will we get another upset? Only time will tell.