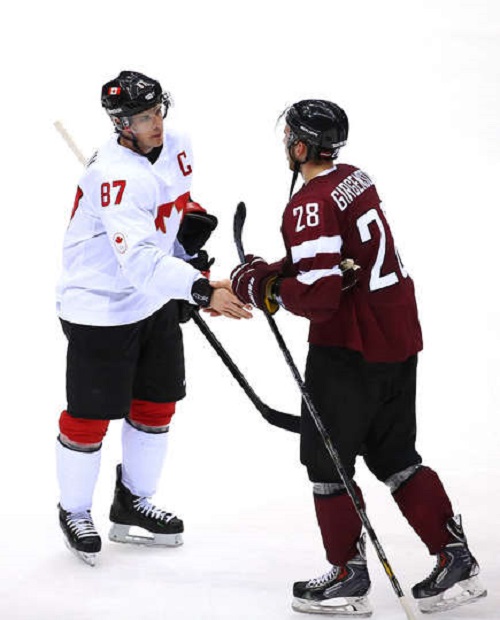 Coming into the hockey portion of the Olympics, Latvia was beyond an underdog. They weren't expected to win any games in group stages, nor in the elimination rounds. They proved everybody wrong.
Although they lost all three of their games in the group stages, one by seven seconds, they showed competitiveness the whole 60 minutes each night they played. They then went into the first elimination game to play Switzerland, the team that beat them by seven seconds. What did Latvia do? They beat them, and moved on to the quarterfinals, which is the best they have ever done in the Olympics.
Yesterday they faced off against a tournament favorite, Canada, and put up an impressive showing.
Patrick Sharp lit the lamp for the Canadians first, but the lead didn't last long, as a few minutes later, Lauris Darzins scored a pretty goal on a pretty breakaway for Latvia. The 1-1 tie lasted until the third period.
The third was an eventful period. The first thing to happen was a Latvian player saving a goal by pushing the puck out of the crease as it was about to cross the goal line. Shortly after, Latvian goalie Kristers Gudlevskis, who stood on his head with 55 saves, was slow to get up, but was ok after a short breather. The first shot he faced afterwards was a blast by Shea Weber from the blue line that easily got to the back of the net. Just like that, Latvia's tournament was seven minutes away from ending. After a lot of pushing to get another goal, the final horn sounded and the game was over.
The two main people who kept Latvia in every game were its goalies. Both of them played phenomenally, especially Gudlevskis. Maybe the NHL lies in their futures…
Latvia surprised several people in this tournament, and if they can keep up their level of play for 2018, they might be able to compete for a medal. A factor that goes their way is that they only have one NHLer on their team, and if the NHL decides not to have its players go to Korea for the Olympics, Latvia won't suffer that much. They might finally be able to get themselves a medal.
Latvia was a fun team to watch during these Olympics, and the team has a bright future.
Love Reading About Hockey?

Subscribe to keep up-to-date with the latest and most interesting hockey news!
| | |
| --- | --- |
| | We hate spam just as much as you |