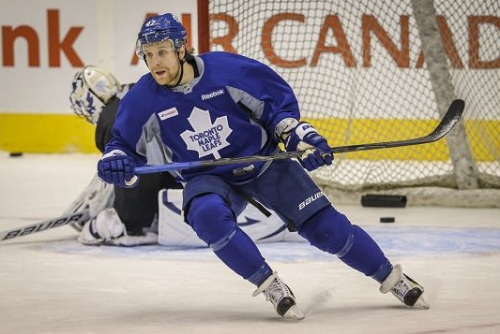 The Toronto Maple Leafs may be short one of their penalty killing wingers for the next season. Leo Komarov, a native of Finland, has signed a contract with the Kontinental Hockey League's (KHL) Dynamo Moscow.
Komarov played for Dynamo Moscow before coming over to the NHL this year. Komarov spent some time in the AHL with the Marlies during the lockout, but soon went back to Russia with an agreement to return.
Komarov kept his word and played for the Leafs. In 42 games played Komarov put up four goals and five assists for a total of nine points on the year. Komarov's low offensive numbers come from the primarily defensive role he played for Coach Randy Carlyle. Komarov was also a key part of the Leafs' penalty killing team, which was the second best league wide in the regular season.
Komarov averaged 13:56 in ice-time a game, with an average of 1:48 of that time spent killing penalties. With Dynamo, Komarov will most likely put up greater offensive numbers, but he has also proved that he can play well defensively.
This article cannot end without mentioning that Komarov was fifth in the league with 176 hits, taking every opportunity to finish his checks. He was also quite adept at drawing penalties while rarely taking them himself. Komarov was one of the Leafs' bottom sixers that could play solid defensive hockey and chip in some offense.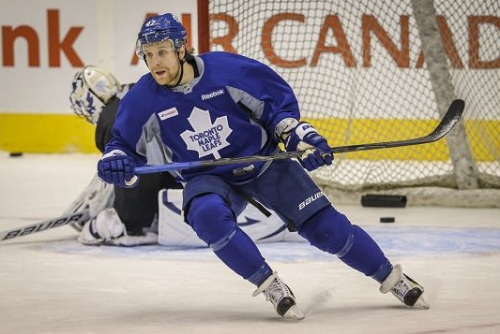 On twitter Komarov (@LKomarov) said "Thank you Leafs organization,fans and all my komrades in Toronto for the opportunity you gave me. I have my own reason to go to Khl and I hope everybody will understand it. I really loved Toronto and i wish them all the best and i hope i will bee back..#wannabecorporal"
Mike Kostka, who also spent the lockout with the Marlies before being called up to the Leafs said on twitter "You are a good man @LKomarov – The most interesting man I have ever had the honor of sitting next to in a locker room. #buddy."
Without Komarov the Leafs could find difficulty in finding a player capable of playing Carlyle's defensive system or replacing his role killing penalties. Komarov was a good value and will be sorely missed.
For those still missing Komarov, here is a tribute video: http://www.youtube.com/watch?v=75In9tQzwJM