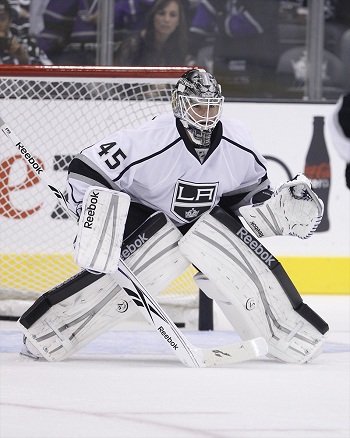 The Maple Leafs have made their first big move of the offseason, acquiring net-minder Jonathan Bernier from the Los Angeles Kings in return for Ben Scrivens, Matt Frattin and a second round pick.
"Going to Toronto is a great challenge," Bernier told ESPN's Pierre Lebrun soon after the deal was made. "They've got a really good young team and hopefully I can fit in and have some success with them."
The Leafs will also retain $500,000 salary, which is allowed under the new collective bargaining agreement.
The Leafs have long searched for a strong presence in goal, and many thought they had it in James Reimer, but General Manager Dave Nonis kept the search going.
Bernier has played 62 NHL games with a record of 29-20-6. He has a goals against average of 2.36 and a career save percentage of .912.
Several teams were in the running to land Bernier, but Toronto's willingness to keep salary could have put the deal over the top. The salary being kept and Bernier's new contract will also decrease the amount of cap space the team has moving forward.
Bernier is also an upcoming restricted free-agent and will need a contract soon.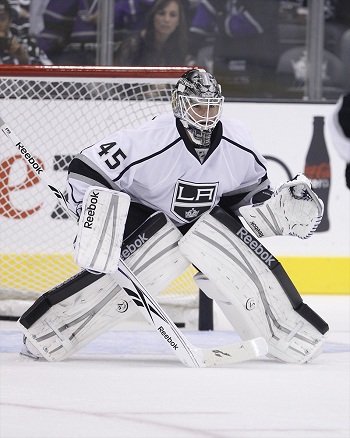 Statistically, Bernier represents an improvement over Scrivens, but the loss of Frattin can affect the Leafs' forward depth. The Leafs currently have very few players signed through to play next year, and with the loss of Leo Komarov and now Frattin, the Leafs could be preparing for even more trade moves or free agency acquisitions.
Moving forward, the Leafs will be spending much more on goaltending, which could stop them from fixing the more glaring problem areas such as a number-one center and a shut-down defensemen who can log big minutes. I think Bernier will be an improvement over Scrivens, which could also help in a full length season, as both goalies can stay fresh and able to step up if there is any injuries.
"Just want to thank the Maple Leafs for a first class experience to start my pro career," Frattin said on Twitter. "Very excited to join the Kings."