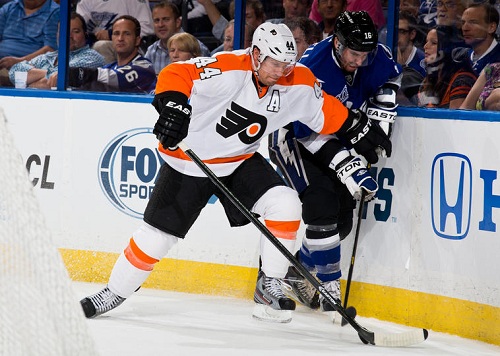 The Philadelphia Flyers were hoping Monday night would be a memorable one for veteran defenseman Kimmo Timonen as he was playing in his 1,000th NHL game on his 38th birthday. The Flyers opponent the Tampa Bay Lightning, however, had different plans in mind. Steven Stamkos potted his 200th career NHL goal while Teddy Purcell notched the game winner as the Bolts defeated the Flyers 4-2 at the Tampa Bay Times Forum on Monday evening.
The Flyers were the team with all the rookies last season but Monday night saw the Lightning with five rookies in their line-up. Ondrej Palat notched his second goal in as many games while Alex Killorn and Tyler Johnson each contributed with assists in the game to propel the Bolts to victory.
Maxime Talbot continued his superior play of late for the Flyers as he scored his fourth goal of the year. Captain Claude Giroux sniped the other Flyer goal on the evening as the Flyers fell to 0-11 when trailing entering the second period.
Palat would open the scoring 6:38 in when he took a pass from Dana Tyrell in the slot and beat Ilya Bryzgalov through the five-hole. The Flyers would respond, however, around seven minutes later when the Flyers best forward on the evening put one by Bolts goaltender Anders Lindback. Maxime Talbot would take the puck up ice all by himself. He would then make a nifty move to cut into the slot and tuck a backhand shot by the goaltender. Andrej Mezaros would get his first point of the year on the play.
It wouldn't take long at all for Tampa Bay to regain the lead as Tom Pyatt buried a beautiful centering attempt from rookie Tyler Johnson to put the home team up 2-1. Claude Giroux would take charge for Philly in the second frame when he jumped on a loose puck turned over by the Bolts Cory Conacher. The captain would get the puck in the slot and utilize his wicked wrist shot to go post and in behind Lindback. It was a tie game heading into the final all important period.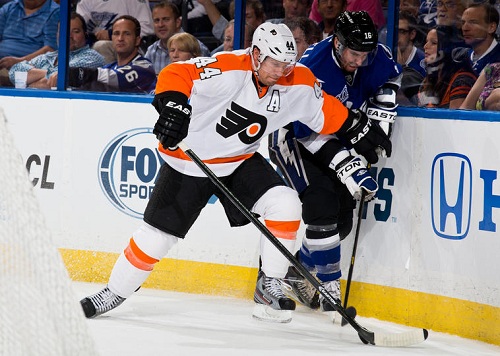 Teddy Purcell would continue his superior season by putting up the game winner in the final frame. He beautifully redirected a point shot from defenseman Keith Aulie to put his team up 3-2. He would later ring one off the post as he narrowly missed putting the game out of reach for the Flyers. Purcell's goal would hold up as the winner though as the Flyers couldn't tie it. Steven Stamkos would put one into an empty net for his 200th career NHL goal.
Game Notes:
Maxime Talbot was a man on a mission Monday night. Firing six shots on net and scoring a goal, the pesky forward helped ignite energy into his team.
Zac Rinaldo was a wrecking ball for the Flyers. Dishing out four hits and looking to bang a body every shift he had. There was some controversy though as he appeared to hit Bolts forward Ryan Malone near the head area. There is a chance the play could get reviewed by the NHL
Claude Giroux now has 17 points in his last 20 games. Starting to look very inspired and motivated to put the team on his back. It appears that it may be too late though as the Flyers have now lost five of their last seven and are falling out of the playoff picture
That goal for Purcell was only his 6th of the year but he now has 24 points in 29 games. The 27 year old is almost at a point per game pace
The Flyers next game isn't until Sunday against the red hot Pittsburgh Penguins
After a roughing penalty in the second period, Flyers forward Scott Hartnell was benched and then eventually dropped from the top line to the fourth
Stamkos became the fourth-youngest player in NHL history to reach the 200-goal mark