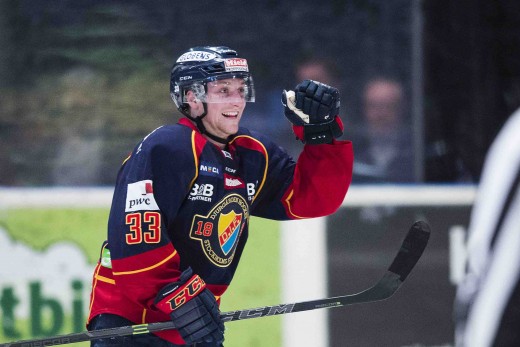 Despite the Florida Panthers' bowing out of the playoffs at the sticks of the New York Islanders (you don't want to get me started on that), the club's 2015-2016 campaign ought to be viewed as nothing short of a success.
And, with its offseason kicking off a little earlier than most would have liked, General Manager Dale Tallon helped to solidify that momentum as the team lays the foundation for its first back-to-back playoff appearances since 1996-97.
Announced Tuesday, the Cats came to terms with defenseman Linus Hultström, bringing the native of Vimmerby, Sweden, into the fold on a two-year contract.
At 23 years old, the rearguard is already a veteran of one of Europe's elite domestic leagues, dressing for 136 Swedish Hockey League contests with three different teams. This season–while skating for league quarterfinalists Djurgardens IF–Hultström notched his best statistical year, registering 31 points off 12 goals through 52 games and notching an additional 12 points through eight playoff matches.
Just look at the frickin' dude.
https://twitter.com/Cats0ntheprowl/status/727532488747266048/photo/1
LOOK AT HIM. Them's some NHL Whatever-type mitts right there.
Slick handles and top-shelf snipes aside, Hultström's signing brings a smooth-skating blueliner into the system, one with the confidence to carry the puck on the breakout and the ability to effectively quarterback the powerplay.
And, if his talent transitions smoothly to the smaller North American ice surface, it wouldn't be far-fetched to assume that Tallon and company have locked down a cost-effective replacement for Brian Campbell.
At 36 years old, one can't help but wonder how just how much Soupy has left in the tank. And–with his eight-year, $57,143,000 contract expiring this offseason–contract negotiations are up in the air.
In terms of size and skillset, Hultström compares favorable to the Strathroy, Ontario, native: Standing at 5'11" and weighing in at 185, the Swede has an inch on Campbell, ceding seven pounds as well. Furthermore, both blueliners possess high hockey IQ, a propensity to join the rush, excellent passing ability and an accurate point shot. Their only knock comes in their own zone, where defensive ability leaves something to be desired.
Even if the Panthers retain Campbell, Hultström figures to upgrade–or, at the very least, provide healthy competition for–the seventh defenseman spot on the Panthers' roster. Using Gabriel Desjardins' League Equivalencies statistic, the SHL product would have produced at a 0.286 PPG pace in the NHL, superceding the career total of current rotational rearguard Steven Kampfer.
Whether or not Hultström sticks with the big club in his first year abroad remains to be seen. However, his signing provides key depth to the position, and ought to inspire competition with Kampfer and the impressive Michael Matheson come training camp.
"I AM EXCITE"-Borat Sagdiyev.