Last week we started our new segment highlighting the careers of some of our current "living legends". These are active players that either have made a name for themselves or are in the process of making a name for themselves and are likely to end up in the Hall of Fame. Last week we started the segment with the magical Pavel Datsyuk and this week we will continue with the Calgary Flames' Jarome Iginla.
For fans that only picked up the game in the last five years, you probably don't know too much about Iginla. And that's a damn shame. It's not like Iginla hasn't produced. He's got 192 goals in the last 5 seasons and from 1998-2008, only Jaromir Jagr scored more goals than him. But we've seen a lot of great goal scorers in our game and Iginla isn't exactly one to clamor for media attention which is maybe why he doesn't get talked about as much as he should. What makes Iginla special is a set of skills that can't always be seen. There are a lot of intangibles and off-ice activities that go along with his greatness on the ice. First we'll highlight what he does on the ice, then we'll talk about what he does off the ice that makes him not just one of the greatest players in today's game, but one of the greatest human beings in the sport.
We often refer to Jarome Iginla as a "prototypical power forward". Well what the heck does that mean? That usually means that a player can score and fight. Well Iginla takes it to the next level by not only scoring and fighting, but also demonstrating incredible leadership and classiness.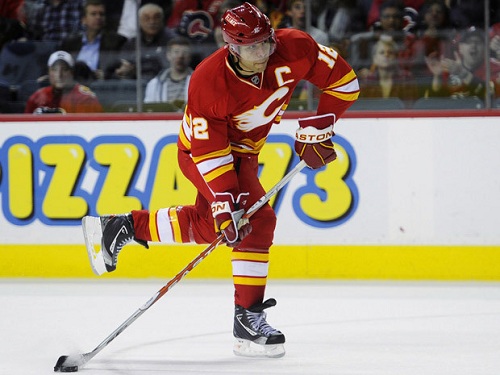 The first skill is his heavy shot that is released so quickly. When we think of great shots, we tend to think of Joe Sakic, Alex Ovechkin, Alex Semin, and Ilya Kovalchuk in the last 20 years. Well Iginla's shot is right up there with those guys. He gets it off so quickly with so much behind it that it is a nightmare for a goaltender to stop. I mean, you kind of have to have a nasty shot if you are going to score 30+ goals in 11 consecutive seasons, one of just 7 players in NHL history to do that. Below are a few examples of that wicked shot
[youtube http://www.youtube.com/watch?v=RajFUHsHFpM&w=560&h=315]
[youtube http://www.youtube.com/watch?v=LqCFB6lDhM8&w=560&h=315]
[youtube http://www.youtube.com/watch?v=t4anoY5xYA4&w=560&h=315]
[youtube http://www.youtube.com/watch?v=fk7AjUi8sqc&w=560&h=315]
He's got the nasty wrist shot, the powerful slapshot, and the wicked snapshot. Not only is it hard and released quickly, but it is also deadly accurate. Those 4 clips should give you an adequate idea of just how Iginla scored most of his 500+ goals.
Next up, let's look at his fighting and leadership. I'll combine the two because Iginla doesn't fight for any reason. He fights when there is a sense of urgency or his team is in need of a spark. He also fights to stand up for his teammates. Probably the fight everyone knows best is his fight with Tampa Bay's Vincent Lecavalier in Game 3 of the 2004 Stanley Cup Finals. The Flames and Lightning were tied at 1-1 in the series, but the Flames had started Game 3 at home flat. Iginla and Lecavalier decided to square off and Iginla set the tone for the rest of the game. The Flames took over after that fight, ultimately taking control of the 0-0 game and winning 3-0. The full fight video is below as well as some of his other fights that were a part of "Gordie Howe hat tricks" which are a goal, an assist, and a fight in the same game. Iginla has 10 Gordie Howe Hat Tricks in his career….and the Flames are 9-0-1 in those games. Like I said, the man fights to lead, and when he does, it often leads to a win.
[youtube http://www.youtube.com/watch?v=Txhs_g5O7E8&w=420&h=315]
[youtube http://www.youtube.com/watch?v=-nCadXuklbU&w=560&h=315]
[youtube http://www.youtube.com/watch?v=OW-qK1HgL0E&w=560&h=315]
Often times, when a player is a physical player, they are rarely considered "clean" and "classy". However, you'd be hard-pressed to find anybody that wouldn't use those adjectives to describe Iginla. One story that often stands out about Iginla is how he honored longtime Vancouver Canucks' captain Trevor Linden in his final game. Linden played his final game April 5th, 2008 in Vancouver against Iginla's Flames. The Flames destroyed the Canucks 7-1. Instead of heading back to the dressing room to celebrate the victory, Iginla got his teammates to form the handshake line traditionally seen at the end of a playoff series and go down the line and shake Linden's hand. Highlights of that game are available below including the handshake line at the end of the game. I mean seriously, can you get any classier than that? Iginla, who in 2008 was probably one of the top 5 players in the NHL, had his teammates get into a handshake line to shake the hand of a longtime rival. Iginla had notched his 50th goal of the season in that game but the game wasn't about him. He knew it was about Trevor Linden and he wanted to make sure that a longtime adversary was properly acknowledged. It just doesn't get any better than that.
[youtube http://www.youtube.com/watch?v=T6YS7VAs7Iw&w=420&h=315]
That classy gesture brings me to what Iginla does off the ice. A lot of NHL players do a lot of charity work and help the community, but few do it to the extent that Iginla does. How many of you knew that Jarome Iginla donates money to charity for every goal he scored? When he started in the league, it was $1,000 per goal, but in 2005, he decided to double that to $2,000 per goal to a charity called KidSport which helps underprivileged kids get gear and ice time to learn how to play hockey.. To date, Iginla has donated $826,000 to charity. Unbelievable. Imagine if all NHL players adopted a similar monetary donation for the goals they scored? Just pure class. Iginla also participates in a yearly wheelchair hockey game against wheelchair-bound kids. Another story I came across while researching Iginla was the story of how he went out of his way to give a few autographs. A few fans recognized Iginla's car outside of a restaurant and decided to wait for Iginla to come out. When they saw Iginla emerge with his family, they thought it would be better not to bother Iginla when he was with his family. Iginla noticed the men staring at them and went over to them and asked if each of them would like a signed Iginla jersey. He was recognized for all of his efforts in 2009 with the Mark Messier Leadership Award which recognizes an "individual who leads by positive example through on-ice performance, motivation of team members and a dedication to community activities and charitable causes." He's an unbelievable human being that is so strongly involved in the Calgary community, which also is somewhat tragic. Because of his connection to the Calgary community and the fact that Iginla has played his entire career there, he will never ask for a trade to a Cup contender. Iginla has only appeared in one Stanley Cup Finals and came up just short. Now, he's 35 years old with his skills finally diminishing. It seems unlikely that Calgary will ever move him and that's a shame. If there is any player I wish could win a Stanley Cup, it'd be Jarome Iginla. You just can't say anything bad about this guy and regardless of whether or not he gets that elusive ring, he's without a doubt heading to the Hall of Fame.
[youtube http://www.youtube.com/watch?v=QAFBsKZyqa4&w=420&h=315]