Two weeks in now and we've already looked at the dazzling Pavel Datsyuk and the magnificent Jarome Iginla. Our next Living Legend is a man that's been in the NHL since 1990 and is still putting up solid numbers. Today, we're going to look at the illustrious career of Jaromir Jagr.
It's pretty safe to say you're a living legend when you have 12 NHL records to your name, ranging from most NHL arenas scored in (53) to the most consecutive 70-point seasons (15). Jagr, as of February 27, 2013, sits at 670 goals, 996 assists, and 1,666 points, absolutely mind-boggling numbers. He's been a member of two Stanley Cup-winning teams in 1990-1991 and 1991-1992 with the Pittsburgh Penguins. He's also played for the Washington Capitals, New York Rangers, Philadelphia Flyers, and now the Dallas Stars. At every stop, Jagr has produced, as evidenced by his point totals. But what is it exactly about Jagr that allows him to be so successful? It's his combination of size, speed, strength, and hands that allow him to do things that mere mortals cannot. Very few players his size have ever been able to skate as well as him or handle the puck as well as him. That's what sets him aside from other power forwards and puts him in the Mario Lemieux class. I guess it's a good thing that if you scramble the letters of "Jaromir," you can make "Mario Jr.", because that's truly what he is. Let's get started.
Jagr's skating:
Jagr is listed at 6'3″ 240 lbs. That is a BIG man. However, the size doesn't make the player great. Too often you see big players struggle to keep up with the speed of the smaller players that can take quicker strides and can maneuver their bodies more easily in tighter spaces. However, I feel that the circumstances lined up perfectly for Jagr. When he came over to the US in 1990, the man he got to watch was Mario Lemieux, without a doubt the best big man forward to ever play the game. There are stories from his days in Pittsburgh on how Jagr watched Lemieux. Jagr watched everything Lemieux did, from how he maneuvered his hips to how he changed his stride length, to how he used his body to shield defenders from the puck. If Jagr didn't understand what Lemieux was doing, he asked. He yearned to learn exactly how to use his size to his advantage in the NHL. That made him one of the most devastating big men in the history of the game. Looking back on his career now, you can really admire a few things about Jagr's skating. First, it's how he changed his stride length depending on how defenders played him. If defenders tried to close on him, he would take a big stride to get around them and then he would dip his shoulder and protect the puck as he took it to the front of the net (that's the first video below). Another thing that Jagr did was using the space behind the net so well. Jagr would often come in down the boards and carry the puck on his stick with one hand. From there, he would loop around the goal, using his body and the back of the net to shield the defender. Then he would come out in front and either wheel a pass into the slot or he would throw it on goal himself. There are a couple of videos listed below that show him using the back of the net like this. Finally, the last thing that made Jagr's skating so unique was his footwork. Now this is going to be tough, but I'm going to put a video of Jagr's top 10-goals of all time here. What I want you to do is not watch the goal, but watch Jagr's feet. Watch the subtle changes in acceleration, the ability to stop on a dime, the edgework on his skates, the way he can change direction so quickly. Pay attention to that in that video, especially goal #7 and goal #3. Those two goals are phenomenal examples of how good Jagr is on his skates.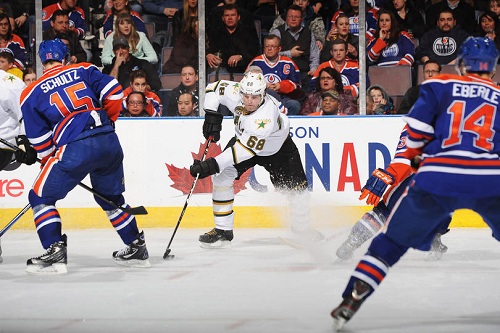 [youtube http://www.youtube.com/watch?v=8cMwqqDd3UA&w=420&h=315]
Watch as the defenseman closes in on Jagr. Watch how Jagr takes one big stride as the defenseman makes a move towards him and then dips his shoulder to protect the puck.
[youtube http://www.youtube.com/watch?v=RD581wb3qUo&w=560&h=315]
Watch how Jagr goes around the net here, eliminating the ability of the trailing defenseman to chase him. This buys Jagr time and space to find an open Claude Giroux for the slam-dunk goal.
[youtube http://www.youtube.com/watch?v=b_wgDsuXDjE&w=560&h=315]
Again, watch how Jagr uses the back of the net to shield himself and the puck from the defender. With no viable passing options, Jagr throws it on goal, and good things happen when you put the puck on net.
[youtube http://www.youtube.com/watch?v=oDX0pxdidB4&w=420&h=315]
Finally, here's Jagr's top-10 goals of all time. Pay specific attention to goals #7 and #3. Watch the edgework on his skates that Jagr uses to beat the defensemen.
Jagr's hands:
Generally when you have a bigger man, they have a longer stick, longer arms, and therefore, it's harder to make moves when you are in tight on a defenseman. Somebody forgot to tell Jagr that. Between 1995-2004, there was not a player better at 1-on-1 hockey. I think only after the lockout did Detroit's Pavel Datsyuk (another player on our Living Legends segment) finally take the mantle as the best 1-on-1 player in the game. But for 10 solid years, Jagr was the best at making moves in tight, whether it was on a defenseman or on a goaltender. Below are several examples of Jagr making moves in tight to beat either a defenseman or a goaltender.
[youtube http://www.youtube.com/watch?v=_WknkASnBGQ&w=420&h=315]
[youtube http://www.youtube.com/watch?v=haUnOekLbp0&w=420&h=315]
[youtube http://www.youtube.com/watch?v=SXAq0JAdnIM&w=420&h=315]
Jagr's shot:
If you're going to score 669 goals, chances are you have a lethal shot. Jagr has just that. Not only can Jagr dance around all the defensemen, but when he decides to shoot, he can rip it. Jagr uses one of the longest curves on his stick which allows him to not only stickhandle effectively, but it allows him to curl the puck and rip it. He has one of the heaviest wrist shots. People often ask what it means to have a "heavy" wrist shot. What that means is that it is a shot that carries a lot of weight behind it, so much so that it can make the puck very difficult to control for a goaltender. It often "stings" the goaltender wherever it hits them, making it a hard shot to corral. Jagr possesses a heavy and accurate shot and below are a few examples of it.
[youtube http://www.youtube.com/watch?v=qCGs2v2L8D8&w=420&h=315]
[youtube http://www.youtube.com/watch?v=3Nl5ktCckPM&w=560&h=315]
[youtube http://www.youtube.com/watch?v=lzl9aMGCz_U&w=560&h=315]
Jagr's strength:
So hypothetically, let's say a player was able to catch Jagr on the backcheck. Well, Jagr at his size was so strong that he could hold off almost any player, even if they were holding him, hooking him, or physically trying to knock him down. Remember that the early part of Jagr's career was spent in an era where obstruction was "allowed" and defensive players could hook and hold the offensive players throughout the neutral zone to impede their progress. Check out some examples of Jagr's strength below.
[youtube http://www.youtube.com/watch?v=L4YMcsXRohM&w=420&h=315]
[youtube http://www.youtube.com/watch?v=oDX0pxdidB4&w=420&h=315]
This is the same video of Jagr's 10 best plays, and all you need to watch is #10. He's being held (illegally), and still has the strength with one hand to reverse the play and beat the defenseman to set up his teammate for an easy goal. Simply amazing
So far I've shown you examples of his skating, his stickhandling, his shot, and his strength. The thing that makes him truly elite is his hockey I.Q. something that is so hard to show on YouTube highlights. Jagr just knows how to find the open spaces, find the chinks in the defense, and how to use his abilities to his advantage. I think a large part of it came from his early years in Pittsburgh where he had the opportunity to learn from teammates and Hall of Famers Mario Lemieux, Bryan Trottier, and Ron Francis. Learning from three of the greatest forwards of all time truly allowed Jagr to study the game as a young player and pick up the proper tendencies. You see that now, even at age 40, as he still knows where that puck is going to be and where the soft spot in the defense is. He's simply one of the most unbelievable specimens hockey has ever seen. Very few players have ever been able to combine his size with his stickhandling and that's why Jagr is a Living Legend.
Love Reading About Hockey?

Subscribe to keep up-to-date with the latest and most interesting hockey news!
| | |
| --- | --- |
| | We hate spam just as much as you |