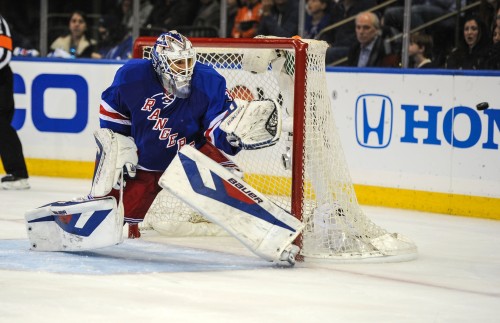 The Swedish native has been at the helm for the New York Rangers crease for the past 10 seasons, and has built up quite the hockey resume.
His 346 wins, 55 shutouts, (all-time franchise leader for both categories), 631 games played, 2012 Vezina Trophy and ability to make both outstanding and timely saves over the years are impressive to say at the least. But, I've been more impressed with another quality The King has displayed…
His longevity.
Yes, it's an overlooked characteristic in all of professional sports, but it's especially taken for granted with NHL goalies.
The fact that Lundqvist has been a successful and all-star caliber goalie in the NHL for 10 straight seasons, going on 11, is fascinating in today's age of hockey.
An NHL goaltender's playing style is much different than it used to be in the past, and the butterfly style used by almost all takes a burden on a netminder's body — to where they're "burnt out" faster than in years past…
I always like to compare most of today's goaltenders to running backs in the NFL — they tend to only last for five-six seasons, fade and become easily replaceable. Not Lundqvist though.
"Hank" has only improved over the years — dating back to his first NHL season in 2005-06. Plus, it's not easy to be playing on the biggest stage in all of sports, New York City, at Madison Square Garden for a decade and counting. Yet, Lundqvist has embraced the challenge and atmosphere the City That Never Sleeps has to offer.
At one point fans were used to seeing a handful of Hall of Fame caliber goalies play for two decades; such as Patrick Roy, Dominik Hasek, Martin Brodeur and Ed Belfour; the best goalies of all-time who had that longevity trait.
When you think of a handful of goalies who you could compare to that stud-group to above — names that come to mind right away (besides Lundqvist) are Roberto Luongo, Ryan Miller, Carey Price, Marc-Andre Fleury and Jonathan Quick can even be brought into the conversation.
Yet, I feel as though Lundqvist's playing days will go on to last longer and by doing so No. 30 will have a more successful career overall — that will truly set him aside from others.
Lundqvist is a rare and unique talent, plus one of the most entertaining goalies to ever watch. But his ability to be successful night-in-and-night-out for as long as he has done — is what I may find most impressive about New York's goaltender, long live The King.