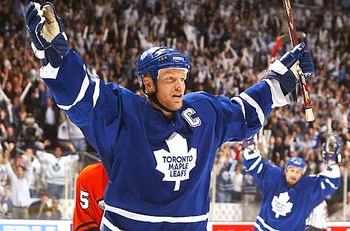 They finally did it. It only took eight seasons and a lockout and a half, but the Toronto Maple Leafs have finally made the playoffs. To put things in perspective, the last time Toronto played a playoff game I was young enough that I could paint my face blue and white, run down the street with signs and flags and not feel stupid about any of it. Oh, to be a teenager again. Actually most people can still do the same things that they did as teenagers and not feel stupid, it just requires a fair amount of bottled beverages.
But back to the Leafs, where Toronto currently sits fifth place with 57 points and are just ahead of Ottawa who have two games remaining compared to Toronto's lone game. Toronto and their fans overcame a two game losing streak that had the city covering their collective eyes when the Leafs finally clinched last Saturday in a spectacular 4-1 showing against the Ottawa Senators.
With the Montreal Canadiens winning on Thursday, it's no longer a possibility for Toronto to move up in the standings. That doesn't mean a match-up against the Habs would be terrible news, as Montreal seemed hell-bent on losing every game with the loss of Alexei Emelin until Thursday's win. After a lackluster performance against the Tampa Bay Lightning on Wednesday, The Leafs pumped the Florida Panthers for 4 goals Thursday and James Reimer posted another stellar effort and recorded the shutout despite the fact Toronto was out-shot 34-17. Toronto's game against Montreal on Saturday becomes all the more crucial, as Toronto would be ill-suited to fall to sixth and risk taking on the Capitals and a smoking Alex Ovechkin and his league-leading 31 goals.
Sixth would be horrendous for Toronto, as the team had a chance to finish second as recently as Wednesday if they had finished out the season 3-0-0. Sportsclubstats.com gave them at a 22 per cent chance for the Northeast Division lead and a 68 per cent chance of finishing fourth, with only 10 per cent odds to stick in fifth. That all fell apart after the loss to the Lightning and Montreal's win Thursday ruined any hopes of fourth and home ice. Second seemed too good to be true anyways, as everything would have had to go perfectly, and perfection and Toronto are seldom seen together (minus the Canadian Football League's Argonauts Grey Cup squad last season).
Back to the streak of futility, I've decided to put things in perspective by showing where the 2004 players are today.
2003-04 Team Today:
Mats Sundin: Age 42, retired 2009, Hockey Hall of Fame (HHOF) 2012. The Leafs captain of 11 years led the way with 31 goals and 44 assists in 81 games and had nine points in nine games in the postseason in 2003/04.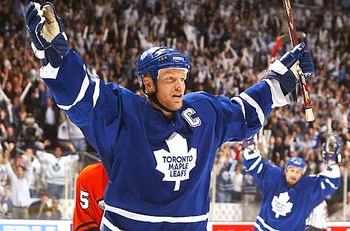 Bryan McCabe: Age 37, last Leaf game in 2008 and played his last game in 2011, but waited to retire until February of last year. Three goals and five assists in 12 playoff games to lead Leafs' defensemen.
Joe Nieuwendyk: Age 46, retired 2007, HHOF 2011. Nieuwendyk played only one season in Toronto, now GM of Dallas Stars.
Gary Roberts: Age 46, retired 2009. He is currently a sports trainer and nutritionist.
Owen Nolan: Age 41, Nolan officially retired in 2012 despite not playing in the NHL since 2009-10. He currently hosts a fishing and hunting show called Fish TV.
Ed Belfour: Age 47, Retired 2008, last NHL game 2006-2007, HHOF 2011. I'll never forget Jeremy Roenick streaking down Belfour's left side in OT of game six and thinking "It's over," only to see J.R. end the series on that shot. I thought "next year it's ours" only to see the 2004/05 lockout. That's my last memory of Leafs playoff hockey. Belfour is currently a co-owner of a Central Hockey League team in Texas.
Trevor Kidd: Age 41, retired 2006, last NHL game in 2004. The backup will only be remembered for his checker pads and not his 30 minutes of playoff hockey as a Leaf. Currently owns the Mountain Bean Coffee company.
Brian Leetch: Age 45, retired 2007, last NHL game 2006, HHOF 2009. Ranked 71st on The Hockey News' "100 greatest players issue," Leetch was acquired from the New York Rangers at the 2004 trade deadline and proceeded to score 15 points in 15 games as a Leaf to end the season. He now works as an analyst for MSG during Rangers broadcasts.
Ron Francis: Age 50, retired 2004, HHOF 2007. Francis was another acquisition at the 2004 deadline to bring in depth and leadership and he managed four assists in 12 playoff games. Francis is a minority owner of the Carolina Hurricanes and also the 'Canes director of hockey operations.
Darcy Tucker: Age 38, retired 2010 due to injury. Scored only twice in 12 playoff games. Tucker is currently a player agent for Turning Point Sports Management.
Bryan Marchment: Age 43, last game in 2006 but never officially retired. A defensive defenseman if there ever was one, Marchment's Leaf tenure consisted of a single goal and three assists in 88 games (including playoffs). Marchment is now working as a scout and in player development for the San Jose Sharks.
Nikolai Antropov: Age 33, playing for the Winnipeg Jets. One of only four Leafs from the 2004 Leafs still active, Antropov was Toronto's 1998 10th overall selection in the entry draft, but never lived up to the billing. He had just two assists in 2004 playoff run.
Tomas Kaberle: Age 35, playing (at least warming up the press box) for the Montreal Canadiens. He is the second of four players from the '04 team still active, although Montreal uses him sparingly. He is the Leafs second-highest scoring defenseman in Maple Leafs' history behind Borje Salming. He is one of Toronto's only draft picks that has exceeded expectations from his draft position at 204th overall in 1996.
Robert Reichel: Age 41, last NHL game 2004, retired 2010. Reichel wasn't too noticeable during the playoffs in '04, scoring only two points in the playoffs. His most memorable moment in the blue and white was taking a slap shot from the blue-line on a penalty shot. He was the coach of HC Litvinov after his playing career until he resigned in 2011.
Alexander Mogilny: Age 44, retired in 2006. Another veteran added late in his career to the Leafs '04 oldtimers squad. He was the first Russian to defect from the former Soviet Union in 1989 when he joined the Buffalo Sabres. He was the only Leaf to score more points in a season than Mats Sundin during Sundin's tenure when Mogilny notched 79 in 2002/03. He is currently an advisor for Amur Khabarovsk of the Kontinental Hockey League.
Alexei Ponikarovsky: Age 33, playing for the New Jersey Devils. The second last active player from the 2004 team, "Poni" made up the front line for Toronto with Sundin and Antropov. He scored a goal and three assists in 13 games in the '04 playoffs.
Matt Stajan: Age 29, playing for the Calgary Flames. At 29, Stajan is the youngest active player to have played on the Leafs 2004 team as it was his rookie season. Stajan never became the player management hoped he would become, and will only be remembered for being a part of the deal that saw Brian Burke steal Dion Phaneuf from Calgary.
Tie Domi: Age 43, retired 2006. He is Toronto's active leader in penalty minutes and has the third most time spent in the sin bin in league history. A fearsome player on the ice, but not on the score sheet, Domi still managed two goals and two assists in 3 playoff games that season. He is now a businessman. His son Max Domi, of the London Knights of the Ontario Hockey League, is expected to be a first found pick in this year's draft.
Wade Belak: Deceased, retired 2011. Although not entirely notable, I had to include a section for Belak because he was the nicest guy and his death at the age of 35 was unfortunate for everybody and shocked the hockey world. Coming shortly after the deaths of Rick Rypien and Derek Boogaard, Belak's death opened up the hockey world to the idea that fighters led high-risk lifestyles and were prone to depression. I'll never forget sending a letter to the Maple Leafs addressed to Wade and actually getting a response back including an offer in which he said he would "pay to personalize your Leaf jersey with BELAK on the back and sign it if you contact me through my representatives." I never took him up on the offer because my uncle had just bought me a McCabe jersey, but It meant the world to have that kind of accessibility and connection to one of my heroes as a young teen.
Lesser knowns of the 2004 team: Karel Pilar (plays in Sweden), Aki Berg (works for TPS in Finland), Ken Klee (runs a hockey camp), Drake Berehowsky (coach in ECHL), Tom Fitzgerald (Pittsburgh Penguins assistant GM), Calle Johansson(assistant coach with Washington Capitals), Chad Kilger (firefighter), Nathan Perrott (plays senior hockey and runs a hockey school), Mikael Renberg (physiotherapy student at Lulea University in Sweden) and Clarke Wilm (last known info about Wilm is he performed on "Swinging with the stars" charity dance in 2012).
So, in total, there are 22 out of 26 players retired who played in playoffs for Toronto during the 2003/04 season and only seven players on that team are still under 40 years old. There were five players on the team who are now in the Hockey Hall of Fame.
Some other neat facts about the last time Toronto made the playoffs:
–The last playoff game featuring the blue and white took place on May 4, 2004 at the Air Canada Centre and ended in a 3-2 overtime loss to the Philadelphia Flyers in Game 6 of the Eastern Conference semi-finals. Jeremy Roenick (retired) scored the game-winning goal against Ed Belfour (retired, HHOF)
-The last Maple Leaf to score a playoff goal was Mats Sundin (retired, HHOF). He scored in the third period of the sixth game, and the goal was assisted by Gary Roberts (retired) and Alexander Mogilny (retired).
-Ties were still allowed in 2003-04 and no one knew anything about the shootout or three-point game because they didn't exist
-Sidney Crosby was thrust into the spotlight after putting up 54 goals, 81 assists and 135 points in just 59 games for the Rimouski Oceanic. He had one more season of 66 goals and 102 assists for 168 points in 62 games the following year in 2004-05 while the NHL was locked out.
– First-generation iPhones weren't invented for another three years and were announced by Steve Jobs (deceased).
-Barack Obama wasn't even a senator at the time and he's in the fifth eyar of his presidency.
-There has never been a tweet during Maple Leafs playoff hockey because twitter was still two years away from coming out in 2004.
-Facebook was only circulating around Harvard and was not yet released to the public.
-Justin Bieber was only 10 years old at the time and no one had yet been subjected to his sad excuse for music. His "discoverer," Usher, had the year's top single in 2004 with "Yeah."
-Marlon Brando, Michael Jackson, Amy Winehouse, Ronald Reagan, Pope John Paul II and others were still alive.
So Saturday will very likely be a preview of the first round if all goes well, and the Montreal and Toronto rivalry would hit new heights if they play in the playoffs. It would be the first time in 33 years they squared off in postseason play. Asked to describe how it would feel it les Canadiens and the Leafs played in round one, Kaberle told reporters "it will be nuts."
We can only cross our fingers and hope.
Love Reading About Hockey?

Subscribe to keep up-to-date with the latest and most interesting hockey news!
| | |
| --- | --- |
| | We hate spam just as much as you |