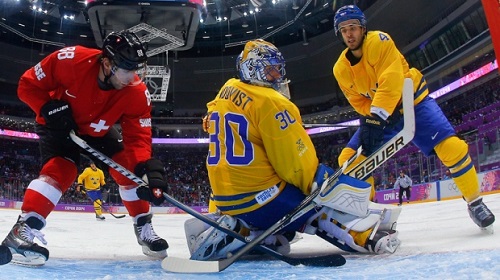 On the surface, things are looking pretty peachy for Team Sweden right now. They're 2-0 in group play, and surely looking at skipping the qualification round after a 1-0 defeat over Switzerland earlier today. Daniel Alfredsson scored the game-winning goal with 7:21 remaining in the game (assisted by Erik Karlsson and Patrik Berglund), and Henrik Lundqvist earned a 26-save shutout, giving him a 1.00 GAA for the tournament so far. With Latvia, the worst team in the group, being their last game (Saturday at Noon Eastern time) in group play, Sweden will likely go to 3-0-0, and will be sitting in the catbird seat after Group C play finishes. But any future success will have to come without their captain, Henrik Zetterberg.
This isn't the first major injury Sweden has had to deal with in the Olympics. Zetterberg's Red Wings teammate, Johan Franzen, was ruled out of the Sochi games before they started with a back injury. Vancouver Canucks Center Henrik Sedin also couldn't participate in the 2014 Olympic Games with a rib injury. Now the Tre Konor will be without Zetterberg for the remainder of the international tournament due to a herniated disc.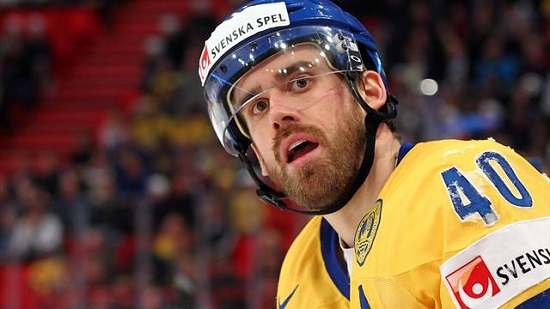 For most teams, losing an entire line worth of players would be a devastating blow. But for the Swedes, they have the depth to overcome the latest injury and still remain one of the top contenders for the gold medal. With the Zetterberg injury, Berglund moves up from the third line to the top line between Gabriel Landeskog and Alex Steen. Replacing Berglund on the third line will be Washington Capitals center Marcus Johansson (between Gustav Nyquist and Alfredsson). The second line (Daniel Sedin-Nicklas Backstrom-Loui Eriksson) and fourth line (Carl Hagelin-Marcus Kruger-Jimmie Ericsson) both remain unchanged.
Team Sweden should have an easy go of things against Latvia for the new line combos to build some chemistry. Their opponent in the quarterfinals should also be a beatable opponent for them. But if they make the semifinals, their depth is going to get tested. A strong performance from Lundqvist was always important for Sweden to repeat their 2006 success, but the King's presence between the pipes just became a little more prudent.