The Montreal Canadiens season ended Thursday night with a loss to the New York Rangers and now it's time to look ahead to a major offseason for the team. After finishing 15th in the Eastern Conference only two years ago, making the conference finals is a major milestone for the team. But many of the core players face important contract decisions this summer and how General Manager Marc Bergevin approaches those situations will have a big effect on the team moving forward.
"Some players had more trouble in the regular season, but stepped up in the postseason. The opposite for others, but overall I am very happy with how our players performed this season," Bergevin said. "Our team is not mature yet, like a Chicago or a Los Angeles. We still have lots of work to do in terms of building through the draft and developing our young players, but we are well on track."
Goaltending would seem set for Montreal, with Carey Price coming off a career year, but there will need to be a decision made on who starts as backup next season. Price missed the Rangers series but Head Coach Michel Therrien said he would probably have played in the Stanley Cup final. In place of Price, third string goalie Dustin Tokarski jumped in and stood on his head. His play in those five games should have earned him a spot on the team next year but it's not guaranteed just yet.
Montreal also has Peter Budaj under contract, who they signed for next season back in October. Tokarski signed his own new deal, a two-way contract, in April meaning both goalies were given commitments for next season before the playoffs. Bergevin will probably try to trade Budaj for almost anything and keep the soon to be 25-year-old Tokarski. With a cap hit of just above the minimum, keeping Tokarski could help make room for other players too.
"Dustin Tokarski showed how good it is to have depth at all positions. Goaltending is the most important position in any franchise," Bergevin said. Internally we'll discuss it, but it's a nice problem to have."
Budaj doesn't know where he'll be next season but he wants to stay in Montreal.
"I would like to be here, I have one more year left on my contract," he said. "It's a great organization and a great team so we'll see what's going to happen."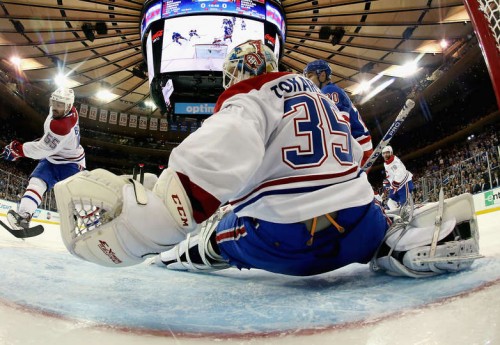 Tokarski isn't too worried about where he'll be next season. When asked about it, he brushed it off as something to think about later.
"I'm just taking it all in right now and looking forward to a good summer," he said. "Of course I'd like to be here but I'll worry what I can control."
Moving away from the net is where decisions get interesting for Bergevin. Thomas Vanek, Montreal's big acquisition at the trade deadline, is set to become an unrestricted free agent and cash in big this summer. His chances of staying in Montreal are slim, but keeping him would keep a big body in the team's top six forward group. If he doesn't return, they will have to find another player of his size and skill to replace him.
To complicate things, Vanek was a major disappointment for the team in the playoffs, only scoring five goals in 17 games and not being a major factor in much of the Rangers series. He even spent some time on the fourth line. While he did have good chemistry with Max Pacioretty and David Desharnais at times, he wasn't consistent enough in the playoffs to be relied on in clutch situations.
"I know I could have made a difference and I just wasn't there," Vanek said. "This game is all about chemistry and confidence and I just slowly lost it."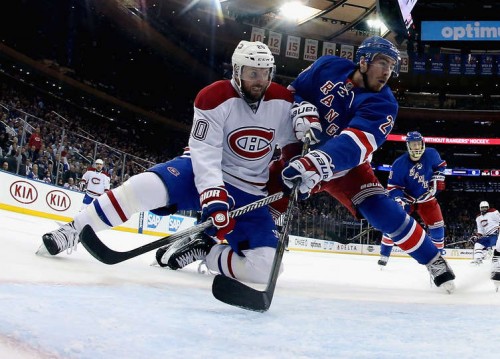 "I'm satisfied with Thomas [Vanek]'s work in general. He helped us get into the playoffs and helped us get to the third round," Bergevin said. "There were some ups-and-downs but he made great contributions to the team."
Vanek is expected to draw a lot of offers and said he will test the market, so Bergevin should focus on other important contracts instead of Vanek's. Montreal can't outbid other teams and so Vanek is all but gone this summer.
"I don't have a city preference, it will definitely come down to offers and I want to go somewhere to win," Vanek said. "I've said that since day one and I'm sticking to it."
Two of the major leaders on the team, Brian Gionta and Andrei Markov, are also set to become free agents on July 1st. Gionta, 35, and Markov, 36, will likely have to take pay cuts if they are to stay in Montreal but they still played important roles on the team.
As captain, Gionta has been relied on as a leader for the Habs for the past four seasons but he has had to evolve from a goal scorer to a penalty killer. He still potted 18 goals this season but had only one, in the first game against Tampa Bay, in the playoffs. After making $5 million last season, Gionta would have to consider taking a significant cut to stay with the team, although no negotiations have begun yet.
"My family has been here for a while and we love the city and we love the team," he said. "I'll leave it up to [Bergevin] and my agent to get it done."
Bergevin hinted that he would like to have his captain back but also made sure to point out that other players stepped up as leaders this season.
"He's an important part of this team. A great captain, great leader," Bergevin said. "[Tomas] Plekanec and [Josh] Gorges are also great leaders. [PK] Subban and Price have also taken on that leadership role."
Markov is a more interesting case because not only does he provide a leadership role, he also helps star defenceman Subban offensively. The pair combined for 44 powerplay points this season, second only to Keith Yandle and Oliver Ekman-Larsson in Phoenix. In the playoffs, Markov had 10 points, nine of them assists and seven of them on the powerplay. Like Gionta, his $5.75 million salary is too high for the Canadiens and if he wants to stay, he will need to take a significant pay cut.
Markov didn't speak to the media Saturday but Subban talked about what it would mean to him if his partner stayed.
"Obviously [Markov's] a big part of this team and he's been a big part of this organization for a long time," Subban said. "But hockey is a business and you just don't know what could happen. In my heart, I want to see him here and to have another chance to win championships with him, for sure."
Subban's own contract situation might be the most difficult negotiation Bergevin will have to face this summer. Before the shortened season in 2013, Subban and Bergevin had a long contract standoff that resulted in Subban missing the first six games of the season. They settled on a two-year, $5.75 million bridge contract, giving Subban two more years to prove he's worth the big bucks.
Well, Subban did more than that. After coming back to the team in 2013, he finished second in team scoring with 38 points in 42 games and won the Norris Trophy as the league's top defenceman. The team also won their division and finished second overall in the conference standings, one year after they finished last.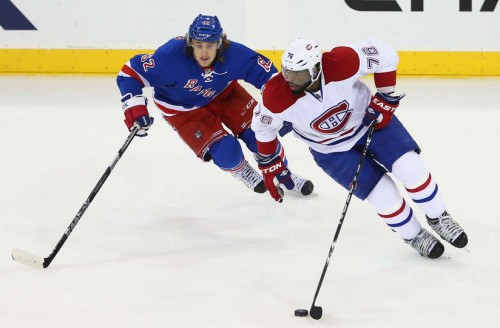 This season, he continued to dominate, putting up 53 points in 82 games, while averaging just under 25 minutes a game. Subban is now the face of the franchise and he has earned to be paid as such. Subban addressed the situation Saturday, saying he wants to stay and win a championship in Montreal.
"Since 2007 when I was drafted by Montreal, I think I've made it pretty clear that I want to remain here and play here for a long time, hopefully for the rest of my career," Subban said. "We've had a lot of good years since I've been here and there's no doubt in my mind that there's a lot more to be accomplished. Hopefully I'm here a long time to do that."
This will be a long negotiation that will have a major effect on how the roster shapes out. But don't expect Bergevin to provide daily updates on the situation.
"I won't publicly discuss any contract talk," he said. "Contract talk is strategic, I can't give you a timeline on when it'll get done."
With all of these player personal questions facing him, Bergevin will have a busy summer. Depth players like Lars Eller, Dale Weise and Mike Weaver all need new contracts, and young players like Nathan Beaulieu and Jarred Tinordi are knocking on the door and ready to make a difference with the big club. Montreal showed in the playoffs that they are trending in the right direction. If Bergevin can secure the core set of the players, while bringing in new ones to add depth to the team, the Canadiens will be competitive for many years to come.
"We're a good young team. Next year we go back to the same starting line as everyone else," Bergevin said. "Our first goal will be to make the playoffs and after that, once you're in anything is possible."