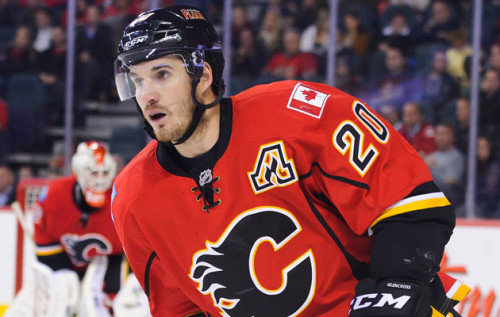 News of Curtis Glencross being on the market came as a bit of a shock considering the fact the Flames are in the middle of a playoff run. But beyond the shock factor of the news, the whole situation has become confusing in its development.
General Manager Brad Treliving has stated outright that Glencross has not requested a trade, and yet he has submitted a list of teams he would be willing to be traded to. His indifference to being traded largely stems from the Flames' unwillingness to give Glencross the money he desires – an issue, considering he will be a UFA at season's end – thus adding to the confusion.
If he isn't going to re-sign in Calgary – and all signs are pointing in that direction right now – then why not request a trade? The request doesn't have to be a big charade that ends up taking on a life of its own, but he could simply approach Treliving and inform him of his intentions. And at this point a trade would benefit both sides.
Glencross is still relatively young at just 32 years of age and can still offer solid contribution to a contending team. Through 50 games this season he has 27 points, is just shy of 100 hits and averages 16:49 of ice time per game. Plus, as mentioned, he's an impending UFA so any team that acquires him doesn't have to worry about a forced long-term commitment.
While his numbers won't blow away any potential trade partner, for a Cup contender looking for depth – exactly what Glencross provides – he's an attractive commodity.
There are, however, a couple of downsides to Glencross: his health and playoff experience (or lack thereof). In his entire NHL career he has never played in all of his team's games in a single season (this season he has played 50 of Calgary's 59 games). He also has just one series of playoff experience to his credit, playing six games in the 2009 Stanley Cup Playoffs.
Still, Glencross would be a great addition for a Cup hopeful, not to mention the good it would do the Flames. Despite their current playoff push, trading Glencross makes sense for one simple reason: they can get a return on Glencross rather than losing him for nothing. The possibility still exists to get a draft pick and/or a player in return, so why not seize the opportunity?
Calgary's core group of young players is ready to take on a collectively bigger role, so trading Glencross makes sense. This isn't the year for the Flames, contrary to what their premature success may lead fans to believe, which makes his services be best-utilized elsewhere.
It'll likely be tough for fans to say goodbye to the "hometown" boy: Glencross was born in Kindersley, Sask., and grew up in Provost, Alta. (each four hours from Calgary). But right now it's the best move for the team – a team whose best years are still to come.
Love Reading About Hockey?

Subscribe to keep up-to-date with the latest and most interesting hockey news!
| | |
| --- | --- |
| | We hate spam just as much as you |