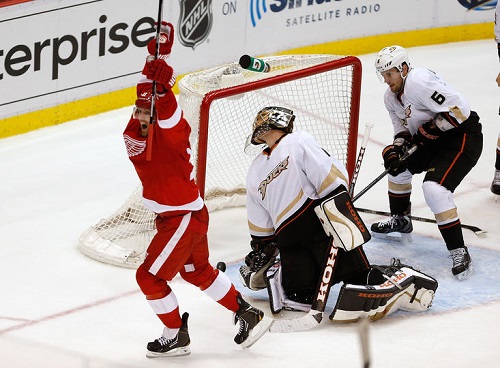 Danny Cleary is a Philadelphia Flyer. Paul Holmgren is on a mission and he won't stop until he puts together a team that is capable of winning the Stanley Cup. You got to have respect for this guy. He went out and acquired a slew of impressive players this off-season while teams like Buffalo sat and watched from the sidelines.
Danny Cleary seems like a little bit of an unnecessary signing though looking at the big picture. Some fans might get excited simply for the fact that Cleary is a well-known name in hockey. Unfortunately, the 34 year old is past his prime and has never hit 50 points in his career.
What happened to the idea of the youngsters gaining more ice time and experience? It's hard to process this move in so many ways as we just don't know what is going through Holmgren's head. Is there any chance the team still signs Gagne? It seems unlikely now but it is the Flyers we are talking about.
What truly needs to happen is for the team to find a way to deal Mezaros or Coburn. That would free up a significant chunk of cap space and would let a young defenseman get his feet wet at the NHL level. It seems like money is nothing in Philly
Two years would have been a great deal for Cleary but three years with an annual average salary of $2.75 million is too much. Cleary averaged a whopping 3:14 of ice time on the man advantage last season with the Wings. Is this a good thing though? Think about it. Let's say the Flyers top power-play unit is the same as last year: Giroux, Voracek, Hartnell, Timonen, and Simmonds. The second unit would include Lecavalier, Schenn, Couturier, Streit, and Read. I don't see any way Cleary would fit into the Flyers power-play system. You are paying a forward $2.75 and he won't even be able to contribute on the power-play.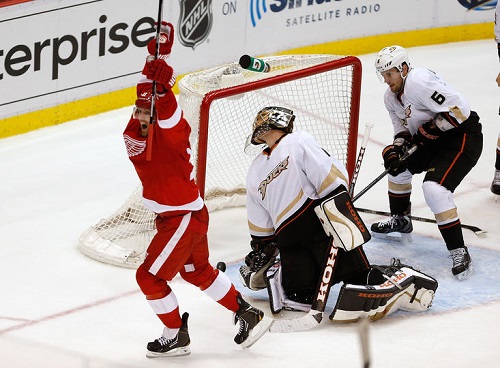 Sure Cleary can fit with the Flyers and be a solid depth forward. He's proven himself and there aren't too many reasons to doubt him. The question is why did the Flyers feel they needed to add another forward? I don't know what Paul Holmgren thought about Tye McGin's play, but I certainly would like to see him back on the ice this season. That is pretty much out the window now, especially if Gagne miraculously gets re-signed.
The Flyers didn't need another forward but if so, why not go after a guy like Mason Raymond? Cleary is at the end of his career but Raymond is a 27 year old, 25 goal scorer looking to turn his career around. He is somebody who could take off with a new team. Who knows the money he is looking for but it can't be too off what Cleary was given.
The underlying truth beneath all this cap space chaos is that we should expect a trade soon. Why would Hal Gill be brought in all of the sudden when the Flyers really weren't in need of another depth defenseman. What about Oliver Lauridsen? Lauridsen, alongside, Gustafsson, Schenn, and Morin should be beginning to form the young nucleus on the blueline. Something isn't right here.
There are so many possibilities here that we just won't be able to get to the bottom of. Maybe the Flyers are looking to ship Talbot or a guy like Gervais. Something will be done to help the Flyers get under the cap that is for sure.
Cleary is more durable than Gagne and more of a physical player but Gagne on a one or two year deal would be cheaper and would be better. Nothing wrong with Danny Cleary at all as he has done great things in his career, but it's just a little hard to comprehend.