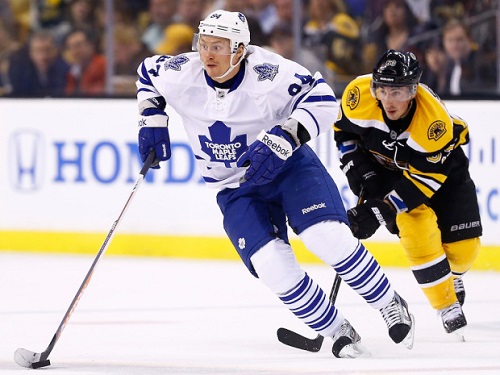 The Toronto Maple Leafs have announced that they will use their second compliance buy-out on Mikhail Grabovski. In 2012 Grabovski signed a five-year $27.5 million contract with an annual cap hit of 5.5 million.
Grabovski was originally drafted by the Montreal Canadiens 150th overall in the 2004 Entry Draft. In 2008 Grabovski was traded to the Toronto Maple Leafs for the draft rights to Greg Pateryn and a 2010 second round pick.
In his time with Toronto, Grabovski was not without controversy. In 2010 Grabovski was arrested in connection to an assault that occurred in Vancouver during the Olympic Games.
This year Grabovski was accused of biting Canadiens player Max Pacioretty. The NHL could not determine conclusively if Grabovski did bite him. Months later, Grabovski would admit to the biting incident. Grabovski told Dmitry Chesnokov "He was choking me and I bit him. Don't stick your hands where you shouldn't."
Grabovski was one of the Leafs' most reliable centers and it can be difficult to see him go on the back of a season that was not his best. Grabovski did not seem to fit very well into Randy Carlyle's system, and as such was unable to play his game the way he is capable of.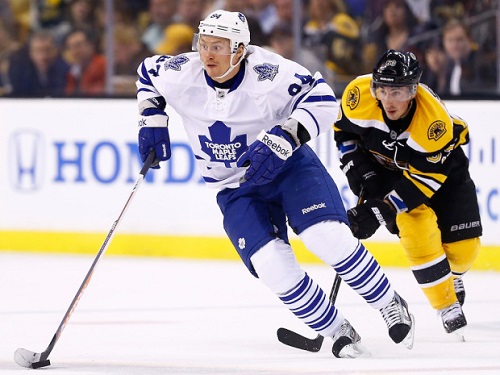 In his five years with the Leafs, Grabovski played 340 regular season games and in that time scored 91 goals and tallied 117 assists for a total of 208 points. In seven playoff games Grabovski recorded two assists.
Grabovski's 208 points since joining the Leafs are beaten only by Phil Kessel's 253.
Grabovski may have been overpaid in his newest contract, but he was one of the best forwards the Leafs have had, and I do not think they will easily find a replacement. Whatever team picks up Grabovski will be gaining a great asset. I could see him finding real success in Washington or maybe Nashville.
It is never a good day when one of your favorite players get traded, it is worse when they are bought out, you cannot console yourself with the return. I hope Grabovski does not decide to return to the KHL, where he played during the lockout.
This could be a real mistake on the part of Dave Nonis for choosing to stick with Tyler Bozak instead of Grabovski, but what's done is done. The Leafs now have lots of cap space heading into the free-agency period, so it is up to Nonis to replace Grabovski and improve the team.
Love Reading About Hockey?

Subscribe to keep up-to-date with the latest and most interesting hockey news!
| | |
| --- | --- |
| | We hate spam just as much as you |