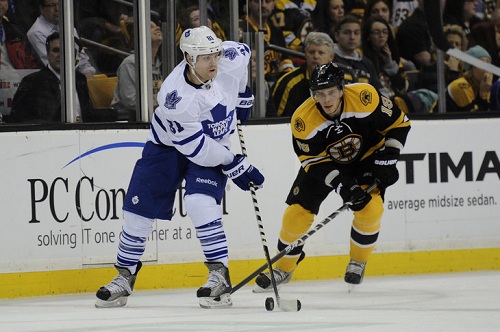 Last Sunday, many Toronto Maple Leafs fans tuned into the last NHL regular season game between the Ottawa Senators and the Boston Bruins. In an upset, Ottawa defeated Boston, destroying the hopes of many for a Leafs vs Habs showdown. Instead, the Leafs will face the Boston Bruins in a series that can make or break the team.
The Maple Leafs have not fared very well against the Bruins in recent memory. The Bruins have a 9-1-0 record in their last 10 games against Toronto, and a 30-8-4 record in their last 43 games against Toronto going all the way back to 2006.
But it is not all doom and gloom in Toronto. The Leafs have made it to the playoffs for the first time in years, and the Bruin team they are facing has ended the season in a bit of a slump, finishing the last ten games of the regular season with a 3-5-2 record.
Much has been made about the connection between Toronto and Boston, particularly the trade that saw Kessel traded to Toronto for two first-round draft picks and a second-round pick in 2009. The Bruins used one of those picks, which turned into the second-overall to select Tyler Seguin, who has been a thorn in the Toronto's side ever since.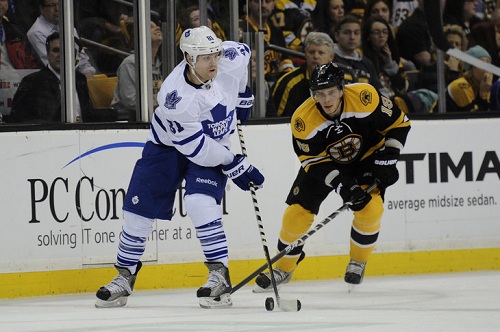 "We're playing against an exceptional hockey team that's very well coached and very deep," said Dave Nonis, general manager for the Maple Leafs. "It's a good challenge and measuring stick for our group. That's how we have to approach it."
Randy Carlyle, coach of the Maple Leafs said in a press conference with reporters that the Maple Leafs will have to work on their mental game in preparation for the first round.
"Playoffs are a different time," said Nonis. "It's a different animal."
Joffrey Lupul, who finished out the season with 11 goals and 18 points in 16 games, said "They've had our number for sure, but the playoffs is a clean slate." Lupul missed games this year due to a broken arm, a concussion and a suspension.
The Leafs goaltender, James Reimer, said in an interview with reporters following Tuesday's practise that he knew what the Leafs would have to do. ""I am going to have to keep at it and try and find the puck and our defense is obviously going to have to keep battling and push guys out of the way or get in front of pucks," said Reimer.
"They're a big team, they play that style, we've definitely seen it before," said Captain Dion Phaneuf. "We know how they want to play and we know how we want to play so it's going to be a good series and we're looking forward to getting it going."
A player to watch in Wednesday's game is Cody Franson. Franson, normally paired with Mark Fraser, has had a phenomenal season this year. Franson has scored 29 points, which is good for sixth amongst all defencemen. Franson also serves as a key part of the Maple Leafs first power-play unit, which will have to be in sync for the Leafs to continue to the next round.
As for Boston, Leafs fans should keep an eye out for Patrice Bergeron. A Selke-winning centremen, Bergeron is a whiz at faceoffs and has scored 10 goals and 32 points in 42 games for the Bruins. Bergeron scored the cup-winning goal for Boston in 2011, and will be looking to do it again, if they get through the Leafs.
As Carlyle has said, the Leafs next game is the most important, and then the game after that becomes the most important. Following Wednesday's game, the Leafs will play again on Saturday. "We are not going to leave anything in the tank," said Carlyle.
Prediction: It is going to be a hard fought series, but I think it will be Maple Leafs in 7.
The first game of the series will be played at TD Bank Garden, Boston on May 1st at 7 p.m. on the CBC. The second game will be on Saturday, May 4th at 7 p.m on the CBC.