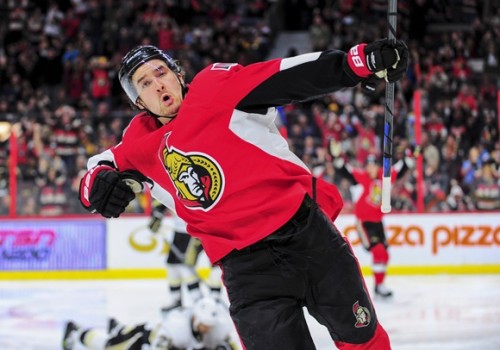 Whether pucks or headlines, Mark Stone has been stealing it all lately.
In only his sophomore season, the 23-year-old is already making a name for himself as one of the best two-way players in the game right now. His crafty play away from the puck and penchant for scoring big goals – both qualities that were on display in Ottawa's historic run to the playoffs in the spring of 2015 – have already endeared him to Ottawa's fan base.
That strong play last season (13 goals in his final 27 games, including five game-winners) earned him the attention of the hockey world at large and, consequently, a Calder Trophy nomination. After such a strong rookie season expectations were higher for Stone than they would be for most second-year players, but, minus the theatrics, Stone has been equally as impressive.
He has potted 21 goals and 54 points through 69 games in 2015/16, ranking third and second on the team respectively and putting him on pace to just surpass his numbers from last season. His production this season no doubt been aided by his inclusion on Ottawa's unlikely if not surprisingly productive new trio that also includes Zack Smith and Jean-Gabriel Pageau.
While his offensive numbers have impressed through his first two seasons in Ottawa, what makes Stone a truly valuable player is his work away from the puck. He tied Ryan O'Reilly for the league lead in takeaways with 98 last season and, with 14 games still to go this season, he has shattered his own record with 119 takeaways to lead the NHL by almost 60.
So it begs the question: why, despite his defensive acumen, has Mark Stone's name been noticeably absent from the Selke Trophy conversation?
Once again looking at takeaways, in only two of the last 10 seasons has a Selke nominee surpassed Stone's current mark of 119 – Pavel Datsyuk, first in 2007/08 (144), then again in 2009/10 (132). But, as mentioned, there are still games to be played this season and based on his current totals he is on pace to finish with roughly 141.
Beyond his pickpocketing ability, Stone's defensive play has been remarkable when you consider he plays on a second-class possession team. Compared to the 2015/16 numbers of previous nominees including Datsyuk, Patrice Bergeron, Anze Kopitar, Jonathan Toews and Ryan Kesler, Stone's 51.33 CF per cent at five-on-five is second last, but there's a catch.
Kesler, Kopitar and company play on some great possession teams, so their individual CF percentages are expectedly high. But among the aforementioned group, Bergeron is the only player other than Stone to play on a negative possession team, making his 6.12 percentage point difference between personal and team CF the only one in the group to outdo Stone's 3.73 differential.
Focusing solely on this season, Stone's CF per cent is only slightly better than Toews's 51.12, but still better than Jay Pandolfo's horrendous 40.97 mark in 2006/07 (plus it throws cold water on the idea his minus-nine plus/minus is somehow reflective of poor play). Using scoring chance plus/minus, Stone's plus-six isn't exceptional either, but still better than Toews's plus-one.
If there's anything that could hinder Stone's chances of earning a nomination when that time comes, it's his position and his team's success (or lack thereof). Dating back to the 2005/06 season, 25 of the 30 nominees (intentional or not) have been centres – a fact that doesn't bode well for Stone, a right winger on a non-playoff team.
Looking at nominees as it relates to team success paints and even bleaker picture: Only three players whose team finished outside the post-season have received nominations for the Selke since 05/06. The only silver lining is two of those nominees were up for the award just last season, and two of those three (Bergeron and Rod Brind'Amour) went on to win the award.
Of course, to even have a shot at wining the Selke Stone must first be nominated. But if he continues to be a force without the puck, the latter shouldn't be an issue.
(All advanced stats courtesy of war-on-ice.com)