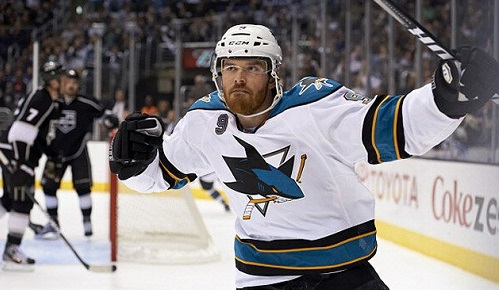 As a devoted Sharks fan, I vow to support any guy who wears a teal sweater. That was beyond difficult when Martin Havlat was a Shark.
Just my opinion, but I'm pretty sure Havlat was the biggest bust in franchise history. We traded away Dany Heatley (not playing too well himself, anymore) for basically a piece of glass. The dude could never stay healthy, and that greatly damaged his reception with fans. For example, in December of 2010, I was sitting at the Tank watching a game.
For a second, I decided to take a look at the bench, and my timing could not have been better. Marty Havlat jumped over the boards, AND INJURED HIS HAMSTRING. HE INJURED HIMSELF ON A LINE CHANGE. At the time I was laughing, but I didn't know that he would miss three months. If you haven't seen the unfortunate injury, you can watch it for yourself:
Just last season, Havlat played for two months before finding his way back onto the injured reserve.
The Sharks wanted to buy him out before last season, but because he had surgery, the Sharks couldn't. Now healthy (for the time being) he was bought out, and quickly signed a deal with the New Jersey Devils.
So the moral of the story is, Martin Havlat was a bust. Any Sharks fan knows that, and if they say otherwise, they might be a little drunk. A 600-word article pointing out his flaws would be fun, but 250 words will do to get the point across. Good luck on the east coast Marty!
Now for you're viewing pleasure, a highlight reel of Martin's time with San Jose:
Love Reading About Hockey?

Subscribe to keep up-to-date with the latest and most interesting hockey news!
| | |
| --- | --- |
| | We hate spam just as much as you |