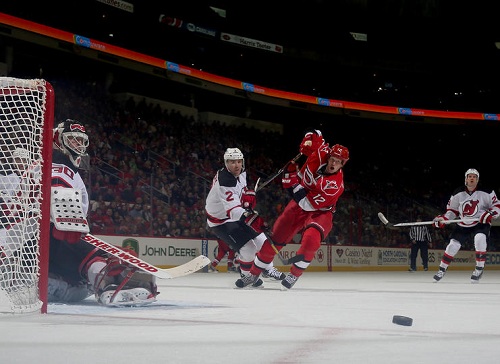 Of course I'm writing about Martin Brodeur this week.
Not only did Brodeur make his first appearance after missing 12 games, but he was credited with scoring the Devils first goal of their 4-1 rout of the Carolina Hurricanes.
That makes Brodeur the first goalie to score three goals in his career; not that offensive prowess dictates a goalie's historical place, but like he really needed to break yet another record?
Some people have tried to convince me that Brodeur isn't actually the best goalie who ever played the game because New Jersey's defensive system in the mid-to-late 90s prevented him from facing as many shots as, say, Patrick Roy did during that time. I understand why that argument is made  – let's not be crazy, Roy was incredible – I disagree with it wholeheartedly and with as unbiased of a mindset as possible.
I also disagree with it as I look at Brodeur's career stats, but I am, and always have been, of the opinion that while stats on paper tell a lot about a player, they in no way tell the complete story. This week's win over the Hurricanes illustrates that perfectly.
Brodeur looked sharp as he stopped 11 Hurricanes shots in the first period, including flurry after flurry of pressure in front of the net. New Jersey held Carolina to just three shots in the second and four shots in the third, which one could chalk up as fodder that disproves my point; however, my focus isn't on the number of shots he faced, but rather on the non-stats-related feel of how he played.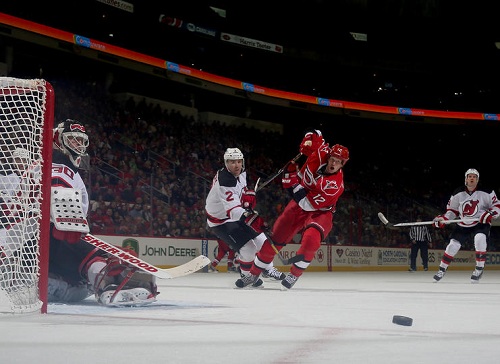 He saw the puck clearly and made the right decisions about when to deflect and when to cover. He stopped everything that came his way as he stretched and dove to keep point-blank power play shots by Jussi Jokinen and Jiri Tlusty from going in. Simply put, Brodeur was his normal confident, dominant self, and that kind of play that we've grown accustomed to seeing in front of the Devils net over the years – and that we've been missing these past few weeks – lights a fire under the rest of the team.
It's been a somewhat tired adage in Devils history that they win more games when they score first, mostly because it continues to be true. Brodeur's goal put New Jersey up 1-0 then in the second period, Adam Henrique scored the Devils next goal, followed by Peter Harrold notching his second goal and third point in three games. The Hurricanes got on the board with a goal from Jeff Skinner in the third, but Andrei Loktionov answered back for the Devils with around three minutes left in the game.
That Brodeur was the one to score first for New Jersey lends legitimacy to him being the lynchpin that holds the Devils together; they are a better team in all facets of the game with him in the net.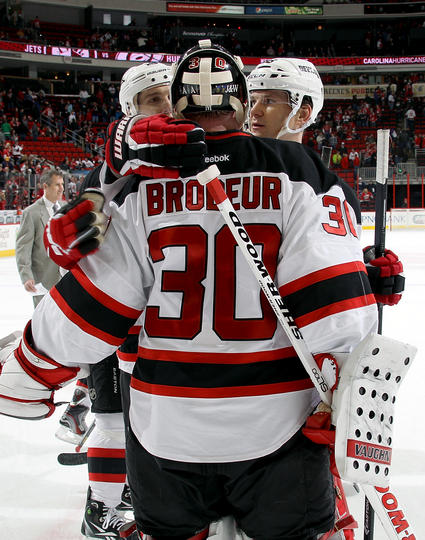 Brodeur's performance in the first period on Thursday  – scoring that goal, aside – was a clear message to his teammates, the Hurricanes, and, quite frankly, to the rest of the league: I'm back.
So, yes, Brodeur is old. Yes, he's lost a step in his game in recent years. And, no, he's not perfect, so don't be fooled into thinking that I'm saying he can do no wrong.
That being said, he's still got it and he's still the best goalie ever to play.
Happy: Thursday's win stopped a three-game skid and also pushed the Devils back into the top eight in the Eastern Conference.
Crappy: I just realized that there's only six weeks left of the regular season. Damn you, lockout.
Love Reading About Hockey?

Subscribe to keep up-to-date with the latest and most interesting hockey news!
| | |
| --- | --- |
| | We hate spam just as much as you |