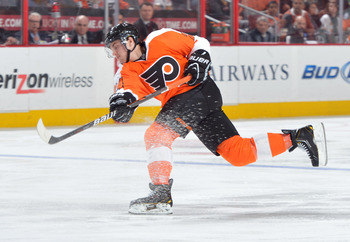 Read all about it. The injury bug has bit the Philadelphia Flyers yet again as another crucial player is being forced to observe from the sidelines. Already without Andrej Mezaros and Scott Hartnell, the team will now be without forward Matt Read for an extended period of time. The 26 year old was injured on a hit by Chris Kunitz in the first period of Philadelphia's 6-5 win over the Pittsburgh Penguins Wednesday night. It is being reported that Read suffered multiple muscle tears in his rib cage and is expected to miss six weeks.
The young forward has arguably been the most consistent Philadelphia Flyer so far this season. He is tied for the team lead in goals with 7 and has compiled 13 points in 18 games played so far this season. His lethal wrist shot is quickly becoming one of the most feared releases in the league and his 17.1 shooting percentage is easily tops among Flyers players who have at least 6 shots on goal. In the absence of Hartnell, Read had been promoted to top line duties where he got the chance to develop some chemistry with captain Claude Giroux.
Matt Read broke onto the scene last season with 24 goals and 47 points in his rookie campaign. His 24 markers led all rookies and established the youngster as a lethal sniper. What is even more impressive is the fashion in which he put up those numbers. Read spent most of last season on the third line where ice time was limited. He got slated on the second power-play unit where there were no elite passers like Giroux or Timonen to feed him pucks. Read got recognized last year for his efforts when he participated in the All-Star SuperSkills Competition where he finished second in the accuracy contest.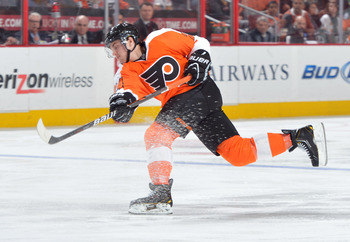 The undrafted forward signed a three-year contract as a free agent with the Philadelphia Flyers in 2011 after playing four seasons of collegiate hockey with Bemidji State University. Read is quite the success story and it is very unfortunate for the rising star to hit this speed bump. There is some good news for Flyer fans though as Hartnell is ready to return to the line-up for the Flyers game against the Winnipeg Jets on Saturday.