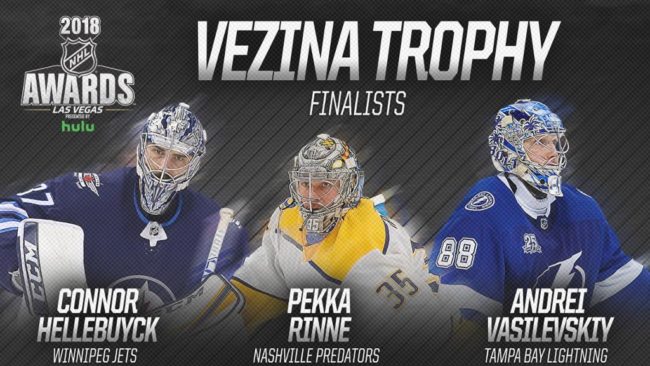 McKenna's weekly NHL Mailbag will be open via Twitter Wednesday through Friday for the remainder of the 2018 NHL season and Stanley Cup Playoffs. To have an NHL related question featured in Hooked On Hockey Magazine tweet to @KMcKenna_tLT5 by using the hashtag #McKennasDigest.
The Calgary Flames have a new head coach, and three finalists have been named for the 2018 Vezina Trophy.
Rangers, Stars or Flames, where do you think he'll land?

— paulish (@perwin74) April 20, 2018
Well, the Calgary Flames and Bill Peters beat me to this – and moved fast.
My guess would have been that the former Carolina Hurricanes head coach in Peters would sign with Calgary; especially considering all the rumors linked to Calgary after the Flames relieved Glen Gulutzan of his duties last week.
I don't think Peters would have resigned unless he had a deal in place and with a team that he wanted to move forward with, either. Calgary's general manager Brad Treliving had also been one of Team Canada's general managers for the World Championships back in 2016, when Canada won gold with Peters as its head coach.
Bill Peters is looking forward to coaching a #Flames team that "is set up to win." pic.twitter.com/JkYOmZza6J

— Sportsnet (@Sportsnet) April 23, 2018
Is Peters the right fit?
There's no doubting that the Flames underachieved this past season, after Calgary missed the Stanley Cup Playoffs for the seventh time in the last ten seasons. Still, Peters leaving the 'Canes is not by may any means accepting an easier task. The Flames have invested a lot of money on their blue line with skaters such as Mark Giordano, Dougie Hamilton and Travis Hammonic, but there's a chance one of them could be dealt this offseason.
Peters is an Alberta native, which may add more pressure than one would think. He won't be on a short leash — unless the Flames are to miss the playoffs in back-to-back seasons under his watch early on. Peters has a winning pedigree at the Junior Hockey and AHL levels, and his style of coaching may benefit skaters such as Johnny Gaudreau and Matthew Tkachuk.
The 2018 NHL Entry Draft is a day to keep your eyes peeled on Calgary, as it could make some notable changes to its roster for 2019. Perhaps veteran goaltender Cam Ward will follow Peters and sign as a backup to Mike Smith – the Flames need depth at the goaltender position.
Hey @KMcKenna_tLT5 out of the Vezina finalists, which one do you think is most likely to carry their team to a Cup win first (either this year or subsequent years)?#McKennasDigest

— Kevin Sporka – HOHM (@KevinSporkaHOHM) April 22, 2018
There's a good chance that one of the three 2018 Vezina Trophy finalists will at least make an appearance in this year's Stanley Cup Final, but there's one goaltender that will hoist Lord Stanley before the others.
Pekka Rinne.
It's the end of the road for Nashville Predators' longtime goaltender, Pekka Rinne, but the Finnish native has the better shot at winning a Stanley Cup before Andrei Vasilevskiy and Connor Hellebuyck.
While both Vasilevskiy and Hellebuyck could finish their respective NHL careers with more Cup rings than Rinne, this hockey enthusiast still sees the Predators all-time leader in career wins (311) leading his team to a Stanley Cup parade – first. The time is now for Nashville, and having lost in the 2017 Stanley Cup Finals to the Pittsburgh Penguins – only motivated and made the Preds a stronger contender for a potential rematch in the Cup Finals.
As for the other two netminders, they may form a notable rivalry over the years even though they're out of conference. Expect both of these goaltenders to be up against each other for the Vezina Trophy on numerous occasions moving forward.
Will Vasi or Hellebuyck lead their team to a Cup win, first?
Our storm is just getting started.

Watch the 2018 #NHLJets Playoff Intro Video!

WE ARE WINNIPEG. #WPGWhiteout pic.twitter.com/Nt2UbzwYHC

— Winnipeg Jets (@NHLJets) April 24, 2018
The Lightning's youngster between the pipes has the compete level of what it takes to be an all-time great, but keep in mind that Tampa's overall defense has proven to be a key weakness since Vasi took over the goaltending reigns this past season. On the Brightside, the six-foot-three masked man already had a decent amount of playoff exposure and experience dating back to 2015 — when he had to relieve Ben Bishop in the Stanley Cup Finals against the eventual champion Chicago Blackhawks. It seems that it's just a matter of time before Vasi helps Tampa win its second Stanley Cup in franchise history.
Still, the Jets may spoil the Lightning's plans. The Jets have been patient and have been growing a Cup contending team just as well, if not better, than the Bolts have over the years. Hellebuyck has arguably exceeded expectations, as most wouldn't have guessed that the 24-year-old would be up for the Vezina this early into his NHL career. What's even more impressive is that Hellebuyck had so much success against a stronger and tougher schedule than Vasilevskiy.
There's no denying that the Central Division proved to be more competitive (again) than the Eastern Conference's Atlantic Division, so on a nightly basis there was a greater challenge for Hellebuyck to prove his Vezina worth status. With that being said — Hellebuyck gets the nod and should lead the Jets to a Stanley Cup before the Lightning.
Tweet your NHL related questions to @KMcKenna_tLT5 to have them answered in HOHM's NHL Mailbag & be sure to use the hashtag #McKennasDigest
Kyle McKenna covers the NHL for Hooked On Hockey Magazine. He can be reached on Twitter (@KMcKenna_tLT5)