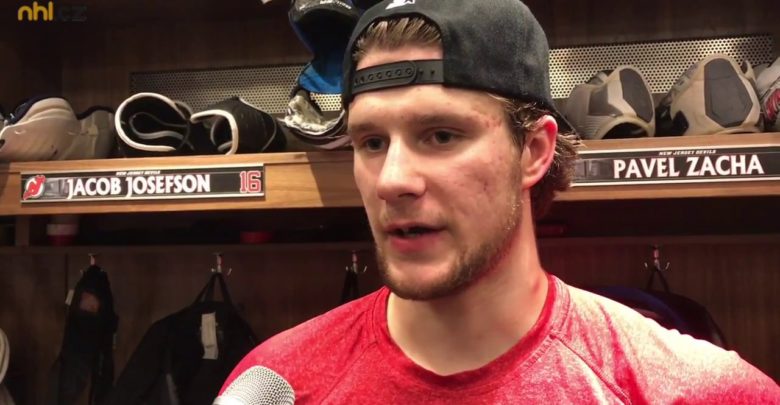 McKenna's weekly NHL Mailbag will be open via Twitter Wednesday through Friday. To have an NHL related question featured in Hooked On Hockey Magazine tweet to @KMcKenna_tLT5 by using the hashtag #McKennasDigest.
The 2018 NHL offseason witnessed a number of teams manufacture some notable transactions via unrestricted free agency and on the trade market, plus two teams hired new head coaches that both previously had success at the collegiate level.
Let's drop the puck on McKenna's NHL Mailbag and address those topics and more.
@KMcKenna_tLT5 I really enjoyed your spot on the @LetsGoDevilsPOD What do you expect out of Pavel Zacha in his 3rd full season? #McKennasDigest

— Sean English (@TheRealSeanE) July 4, 2018
The New Jersey Devils and their fanbase are hoping that Pavel Zacha can take that next big step with the club and blossom into that potential second line forward.
Zacha, 21, has appeared to be a late bloomer in the NHL considering that he was the team's sixth-overall selection back at the 2015 NHL Entry Draft. The Czech Republic, native has recorded almost identical back-to-back campaigns in his first two full seasons in Jersey (2016-17; 8G-16A –24PTS & 2017-18; 8G-17A –25PTS).
There's nothing spectacular about those numbers, but Zacha's role will automatically increase with the team considering that (as of July 10) general manager Ray Shero hasn't made any notable transactions in the UFA pool or on the trade market.
Well earned goal by Pavel Zacha. You could feel it coming for a while now.#NJDevils pic.twitter.com/KnbzOABypV

— Devils Insiders (@DevilsInsiders) February 9, 2018
This summer would arguably be the most important offseason of the youngster's career to date, and fans will know from October's puck drop whether or not Zacha is going to excel with his new opportunity to be one of the team's top skaters.
The left-handed shooter has shown promising signs with his sneaky-good wrister and snapshot, but his skating and foot speed needs to improve. Keep in mind that he's also a big body on the ice, too.
Back. Forth. Pass. Goal.

Lovely passing from the Bratt-@mjohansson90-@Pavel_Zacha unit. #NJDvsTOR https://t.co/LIJ8YwjCy9

— NHL (@NHL) October 12, 2017
At 6-foot-3 and 210-pounds, Zacha needs to not only utilize his size more in all areas on the ice, but combine that with his body position along the boards and his skating abilities. If he and the Devils' training staff can develop No. 37 into a more dynamic player, then you may see some comparable qualities to skaters such as Rick Nash or Ryan O'Reilly (at best).
No, he'll more than likely never record a 40-goal season such as Nash, but his playing style could portray some similarities moving forward on the ice in New Jersey.
Is O'Reilly the missing piece to St. Louis' playoff puzzle? Have they solved the issue of depth at the center position? #McKennasDigest #FreeAgency

— cooper (@BullDurhamSays) July 3, 2018
Speaking of Ryan O'Reilly…
Great question; especially considering that this hockey enthusiast is a true believer in what forward Ryan O'Reilly has to offer to a potential Stanley Cup contender.
First and foremost, the St. Louis Blues needed to shake up their lineup and adding a power forward such as O'Reilly is one big section to that missing area for the Blues' Cup-less puzzle. The 27-year-old adds depth that will create more time and space for St. Louis' top skaters such as Vladimir Tarasenko.
Ryan O'Reilly scores his third goal of the tournament on a set-up from Josh Bailey for Team @HC_Men's fourth goal of the game.#IIHFWorlds🇨🇦 pic.twitter.com/f0FoXenqMC

— TSN (@TSN_Sports) May 7, 2018
Having an additional playmaker and scoring threat in the lineup transforms St. Louis back into a Stanley Cup contender, and the addition of center Tyler Bozak will also take pressure off of O'Reilly and Tarasenko, which should create a positive domino effect for the entire Blues' lineup.
Let's not forget that the Blues had the second-to-worst power play in the NHL last season (15.4%), while O'Reilly recorded a career-high 15 power-play goals last year on a dismal Buffalo Sabres squad. Those 15 power-play goals were good for third in the league in 2017-18 only behind Patrik Laine (20) and Alex Ovechkin (17).
Fun Fact: Ryan O'Reilly tied for third in the NHL last season with 15 power-play goals, trailing only Patrik Laine and Alex Ovechkin. #stlblues pic.twitter.com/STHoZJesy7

— St. Louis Blues (@StLouisBlues) July 2, 2018
In case no one noticed – both of those skaters' respective teams made it to at least the Conference Finals in 2018…
The Blues made the right decision to be aggressive and acquire a skater that's motivated and also has a chip on his shoulder as arguably one of the more underrated skaters in the NHL heading into 2018-19.
Who do you envision being a better head coach in the NHL coming out of college: Montgomery or Quinn? #McKennasDigest

— Zach Flaherty (@zachxicab) July 4, 2018
Considering that the New York Rangers were originally pursuing Jim Montgomery this offseason to be their next head coach, one would have to think that Montgomery has some sort of edge over Quinn heading into the near future.
Yes, Montgomery may have more pressure on his shoulders since the Dallas Stars are expected to compete for a Stanley Cup over the course of the next handful of seasons, but that doesn't mean he won't succeed at his new role in the Lone Star State.
The New York Rangers' newly appointed head coach in David Quinn did a commendable job at Boston University and has seemed to handle the New York media well, but it almost seems too good to be true.
I guess it's official now. David Quinn introduced as Rangers head coach. #NYR pic.twitter.com/eWOOSKtpLx

— John Chandler (@JohnChandlerNBC) May 24, 2018
Yes, New York's front office will help develop and supply Quinn with the necessary talent moving forward for the Rangers to have legitimate talent on the ice, but the big question is if Quinn's personality will complement the Rangers' youngsters, or not.
Quinn's well-spoken and confident, but how will he and his players respond during the team's early growing pains which are almost inevitable during a rebuild?
Given Quinn's track record, it doesn't seem like he's ever been exposed to losing on a consistent basis and on a stage with the magnitude such as Broadway.
Dallas' veteran skaters such as Jamie Benn and Tyler Seguin, plus goaltender Ben Bishop will automatically cover up any notable faults by Montgomery, anyway.
Tweet your NHL related questions to @KMcKenna_tLT5 to have them answered in HOHM's NHL Mailbag & be sure to use the hashtag #McKennasDigest
Kyle McKenna covers the NHL for Hooked On Hockey Magazine. He can be reached on Twitter (@KMcKenna_tLT5)